The stem-cells went in on May Day as planned and, apart from a few days of trots, recovery has been tiring but otherwise trouble-free so far. They let me out yesterday after a surprisingly short stay - they were expecting me to be in for another few weeks while battling infections but I do like to confound their expectations 🙂
I'll have to attend clinic at least once a week for many months while they monitor progress. If they pick up the slightest hint of an infection I'll be kept in again until it's sorted. I have to "stay safe" for at least six months after which I will have all of my childhood vaccinations again. No beer and no crowded enclosed spaces until I get the OK, they say 6-12 months 🙁 but I'm taking that to mean that a coke in the beer-garden would be OK - as you know, I do like to take advantage of poorly-defined rules. And they have thoughtfully provided a booklet riddled with poorly-defined rules.
As you'd expect, I'm on a cocktail of drugs. The worst is Ciclosporin, an anti-rejection immunosuppressive agent. While in the BMTU it was started as an IV drug and it had odd effects - various bodily parts (ears, palms of hands, soles of feet, balls) felt sunburn-hot while others (fingers, toes, nose) felt ice-cold. Thankfully that phase is over and now I'm on the oral version. The downsides of that are that the capsules smell and taste of stale urine, and I'll probably be on them for the rest of my life. The phrase "taking the piss" comes to mind.
Just in case you were wondering, the stem-cell donation looked like a bag of juice from a vacuum-packed beef joint. I had the feeling that Heston could have used it to conjure up an impressive but expensive jus gravy: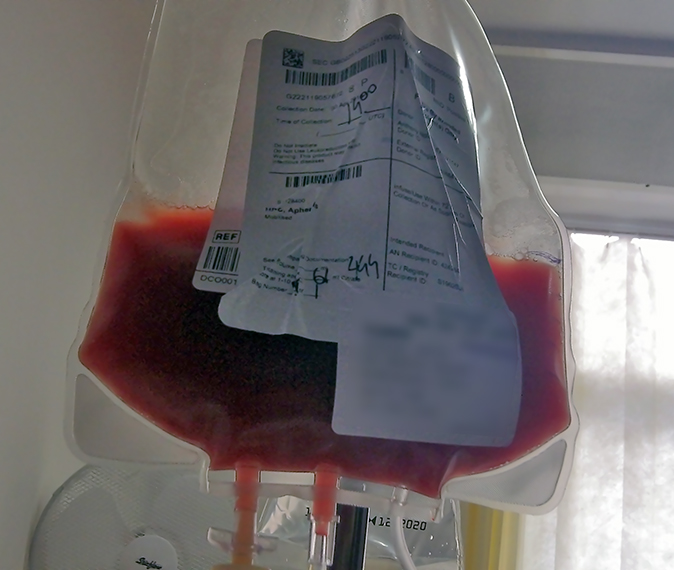 "Stock" photo