It rained nearly all night and the Saturday morning was looking grim. The only folk determined to go out and hit the fell-tops were members of a group of charity walkers who we'd been talking with the previous evening and who were attempting a one-day ten-peak fund-raising epic from Gatesgarth Farm to Stool End. By the time we were up and about they were long gone. We chatted with one of their support crew who said that they'd left loads of excess supplies in the kitchen for us, so we dipped in and chose a few items and left the rest for those that came after. I've just visited their JustGiving page and it says that they had to abandon their challenge due to bad weather, in a sad way that justifies our decision to keep our kids off the fells that day.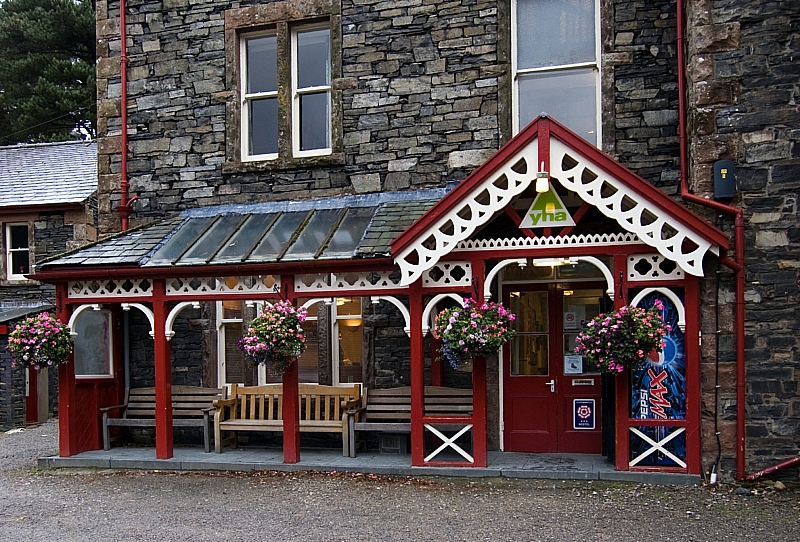 A final look at the hostel
After another fine breakfast we packed the cars and headed up to Newlands Hause just in case anybody had a change of heart and fancied a quick jaunt up High Snockrigg, but there were no takers so we took a few pics and headed into Keswick for a mooch around:
Moss Force
Keskadale
We opted for an hour or so at The Bond Museum - this turned out to be much better than we'd expected. Click the following pic to open more pics in the lightbox:
Gotta get me one of these
After that we did a bit of gift-shopping, had a tea-break and browsed the wares on display at the market, but the draw of the clackysticks on offer at The Outdoor Warehouse in Windermere was too strong. We left Keswick and, after stopping for a picnic lunch at a spot overlooking Thirlmere, we hauled into the shop's car-park and headed in to do the deed. From then on we were homeward bound.