A few of my blogging friends have added a moon phase module to their blogs, they're using the widget thing that's available at http://www.calculatorcat.com/moon_phases/moon_phases.phtml.
Now, it looks fine and dandy when set to display for a Northern Hemispherian like me, it looks like this: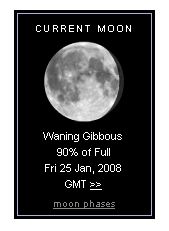 No problems there, that's what the moon looked like last night.
But clicky-clicky on the arrows to set the display for my antipodean cousins and you get...
this: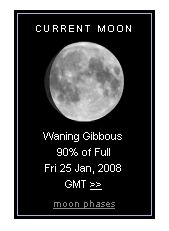 Tell me it ain't so. Surely the terminator can't just change it's position just because the observer has moved from one hemisphere to the other.
The experts over at SGL concur that it should look like this: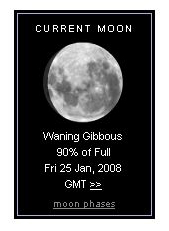 All this space stuff. It's not rocket-science, is it?
Update 27/01/2008: Just visited the website again and the error's been fixed. Another indication of the power of the internet, eh?