I've re-jigged the lines on the front-end of the Vango Banshee 300. I didn't like the way the running-loops at the line-lok ends ran through fabric loops on the vent-flap, there was potential for "sawing" during adjustment. Also, having vee-lines meant that it was impossible to adjust the angle of the vent-flap without altering the angle of the line that pulls out the centre of the end wall - the direction of pull there should be fixed. Weightwise I've measured nowt but I've lost a yard of line and gained a peg and a line-lok. If there's any extra to carry it's hardly going to break my back, is it?
Anyway, here's what it looked like out-of-the bag:
 Front with original (dodgy) guy configuration - 2 vee-lines and 2 pegs

And here are a couple of shots showing the new config:
 Front with revised guy configuration - 3 single lines and 3 pegs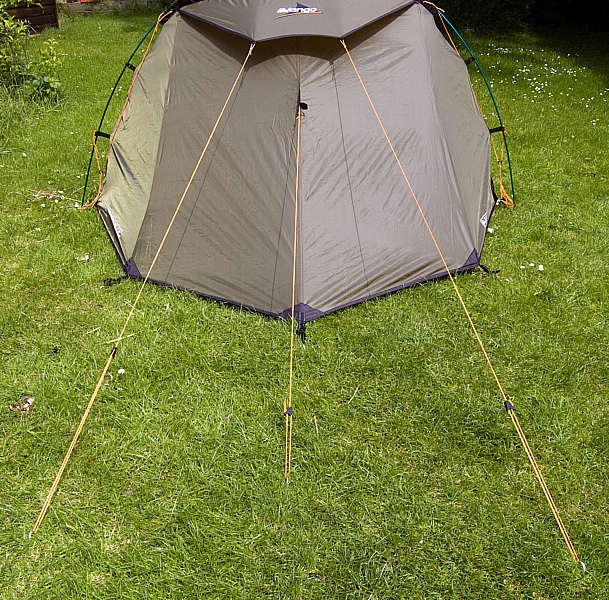 As previous
There, that's better. You can't beat having adjustable flaps  🙂
Next I'll be adding a webbing-strap across the secondary entrance. Experiments with a bit of shock-cord indicated that it makes getting the correct pole-spacing much easier on that side, leading to less strain on the entrance-zips.