This item has been supplied by Christoph Hitchin, representin' idealo.co.uk
The tent bein' reviewed be the 2012 version o' the Vango Banshee 300, the idealo link be here an' the Vango link be here.
It's been pitched on the lawn fer a while an' that's given me time t' have a good look around an' inside it, already I have the feelin' that 'tis goin' t' be as good as, if nae better than, previous Vango offerin's in the same price-bracket. The spec's good an' the features be generally well-presented.
Let's start at the beginnin' - what do ye get an' what does it weigh?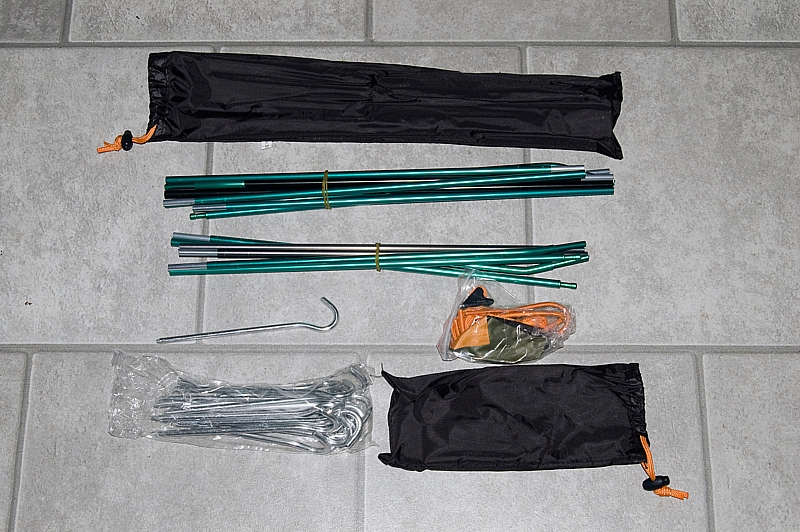 Fly: 1270g
Inner: 898g
Tent-bag: 73g
17 Pegs: 252g
Peg-bag: 8g
Poles: 352g
Pole-bag: 13g
Spares-pack: 22g
That's a total o' 2888g which compares well wi' the published claimed weight o' 2.75kg. It's nae bad fer a split-carry betwixt two scallywags - about 1.45kg each - an Akto comes in at more than that. For them there who prefer imperial, 2888g be about 6lb 6oz. Price-wise the tent's a bit variable - the MRP be £140 but I've seen these on sale fer around £75 recently.
Puttin' it up were bein' a doddle, 'tis hardly rocket-science, avast. For the terminally-inept there be a crib-sheet .pdf file online an' there be three sheets o' printed instructions sewn t' the inside o' the compression-bag. Pitchin' took 10 minutes first time out, that included attachin' the inner an' faffin' wi' the lines. Yaaarrrrr! We be off the edge o' the chart, me hearties! YMMV. It pitches outer-first or all-in-one, the poles an' pole-sleeves be colour-coded an' ye'd be hard-pressed t' get it wrong, there be only two poles an' they be significantly different lengths so they won't fit in the wrong place. The pegs be standard Vango-issue ally hooks, fairly strong but they will bend if mistreated, unlike the harder-an'-lighter top-class versions issued wi' me F10 Spindrift. There be webbin' straps betwixt most o' the pole-ends which means that the pole-spacin' should end up dead right every time (but read on...)
Anyway, here be what it looks like closed-up: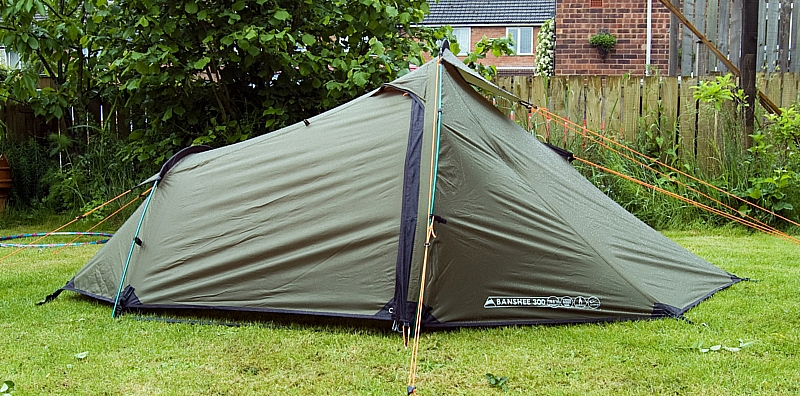 Side
 Front wi' original (dodgy) lubber configuration
Rear wi' original (dodgy) lubber configuration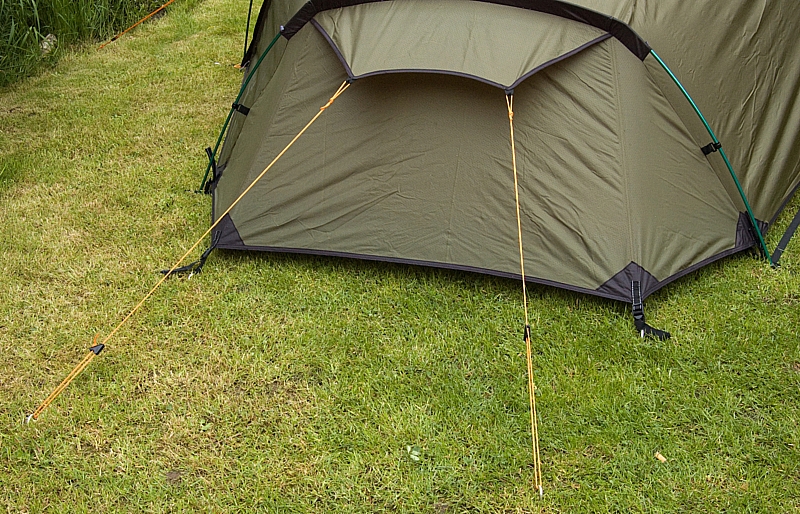 Rear wi' corrected lubber configuration
You'll note the minor gripe about how the end-guys were attached. Break out the biscuits 'n weevils! Aarrr! It's likely just me bein' a tad fussy, but I dern't like runnin' lines passin' through static fabric loops - every re-tensionin' saws away at the loops an' eventually they fray, 'tis worse wi' icy lines. An' hoist the mains'l! Far better t' have static lines in static loops, IMO. I've corrected the lines at the rear, I'm waitin' on some bits so as I can correct the ones at the front. Have ye seen the size o' the cabin-boy's hornpipe? The side ones were fine.
Those front an' rear lines dern't just hold the tent up, they hold up the vent-flaps too, an' the front lines also steady the front wall where the inner be attached. The mesh vents be always open, there bein' no means o' closin' 'em, but they be well-protected: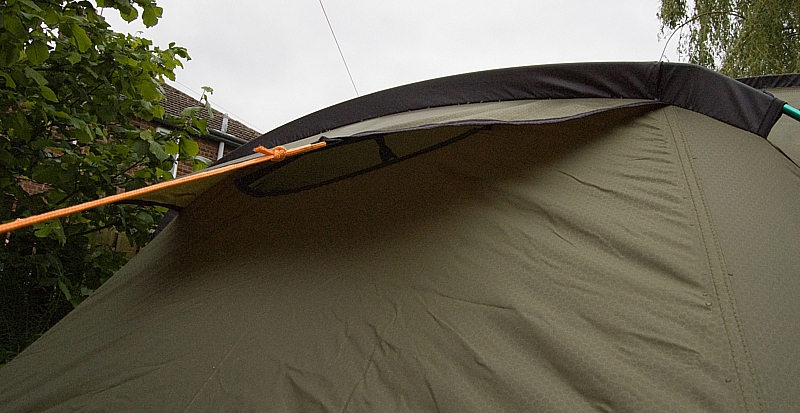 Rear mesh vent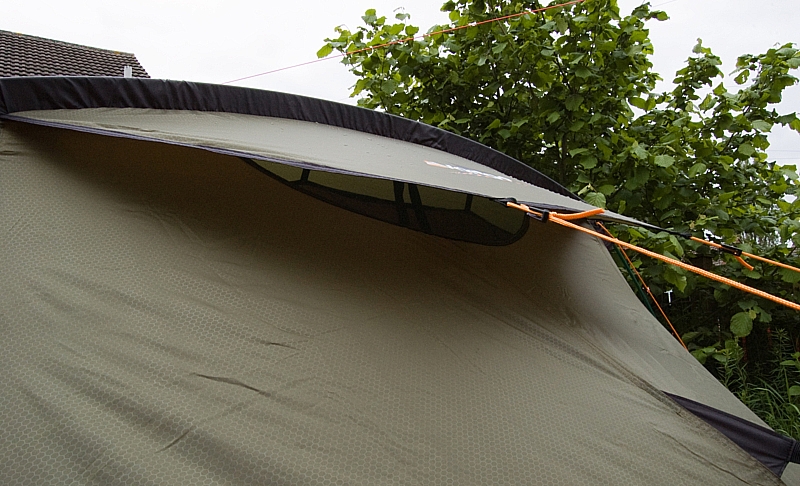 Front mesh vent
Unlike the tent pictured on Vango's website, all o' the fly's nine main peggin'-points be tension-adjustable via reflective-webbin' an' buckle arrangements: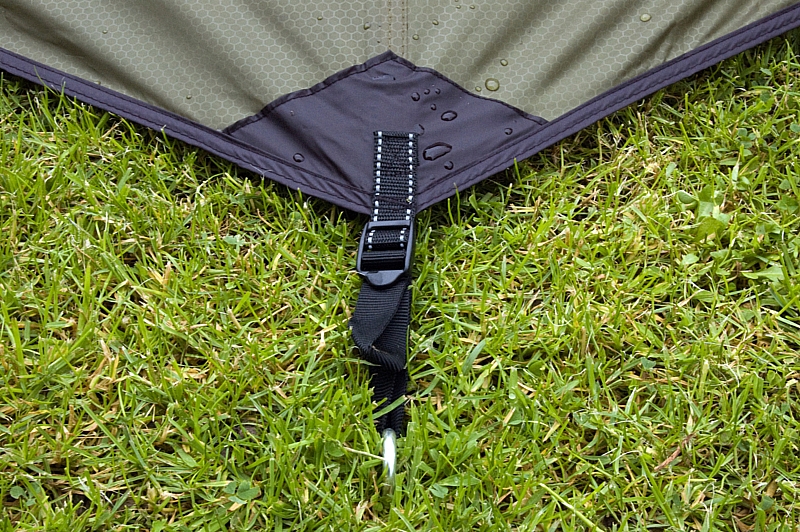 Adjustable peggin'-point

It were bein' while lookin' at these peggin'-points that I noticed that the seam-tapin' were bein' a bit errant - in some places the edge o' the tape were bein' very close t' the seam-stitchin'. A thorough check o' the fly's tapin' were bein' conducted an' this were bein' the worst bit. It's OK but only just: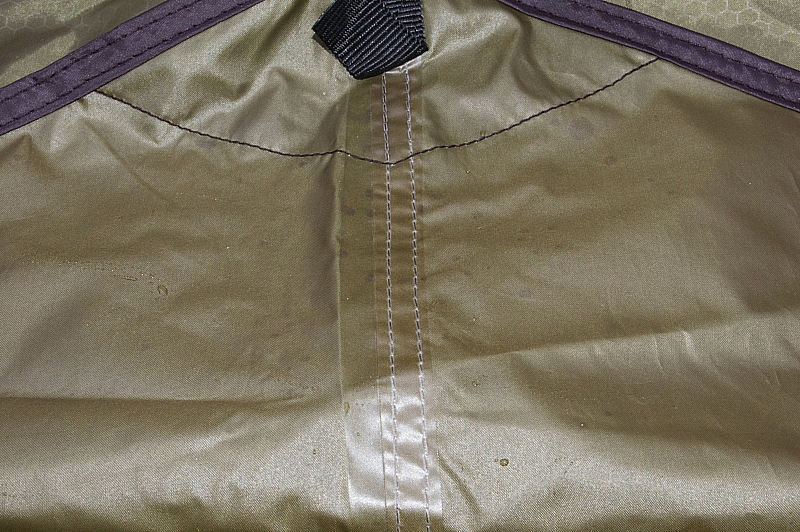 Seam-tapin' could be done wi' more care
I've yet t' figure out fer sure the purpose o' the orange bungee-loops at the bottom-edges o' the fly right next t' the entrance-flaps. They're nae needed t' keep the fly down, the adjacent peggin'-points/pole-straps perform that function. Shiver me timbers! I suspect that 'tis an error an' that they should really be fer peggin' the bottom-corners o' the entrance-flaps (which, coincidentally, have eyelets fer clacky-stick points if ye have a mind t' prop open the flaps in fine conditions), that would explain the two unused pegs: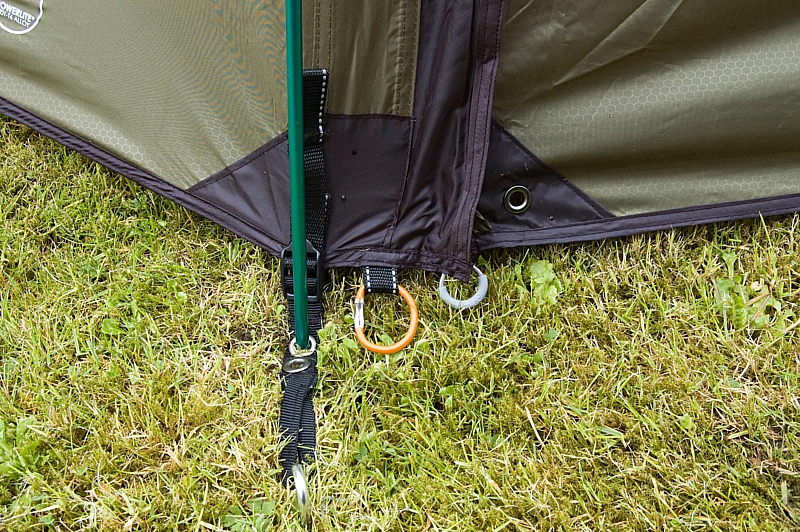 Loop error?
Also shown above be one o' the neat zip puller-loops on the fly, here be a better view: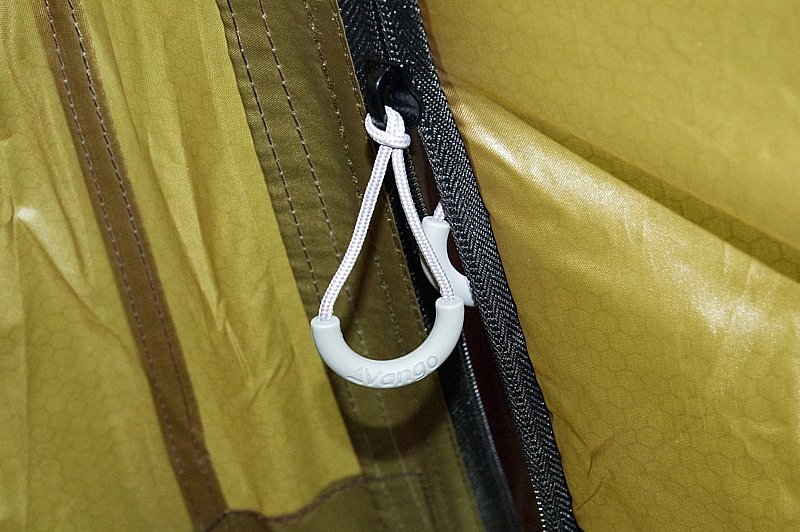 Fly zip puller-loops
I like these puller-loops, they feel good an' they stay open an' finger-ready (unlike fabric or shock-cord loops) but they'd be better if the cord that they're moulded onto were bein' o' the reflective variety. Sadly these puller-loops aren't fitted on the inner's zips or on the top pullers o' the fly's zips, where cord-loops be used instead. A trick missed, I think, an' hardly a budget-breaker, but it wouldn't be a deal-breaker.
Still, the zips be all o' good quality an' the double-ended fly-zips allow ventin' under a cowl at the top-end o' each entrance-flap: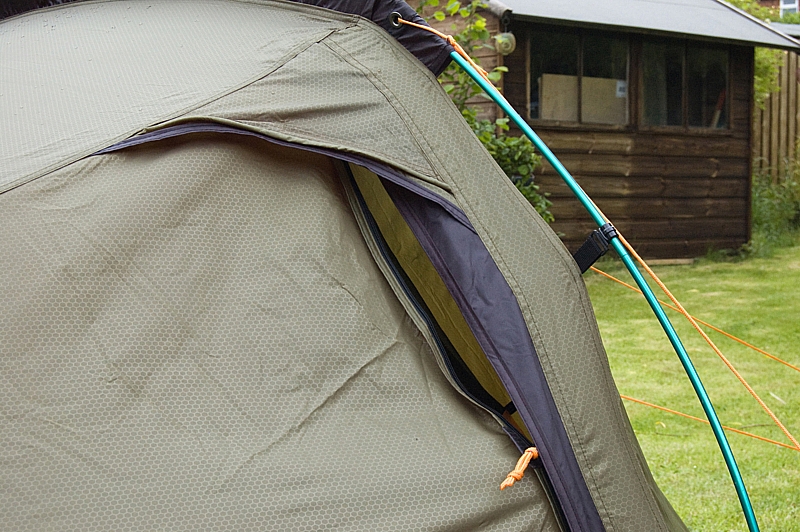 Cowled ventin'
So, let's see it in the full wi' the flaps open an' toggled-up: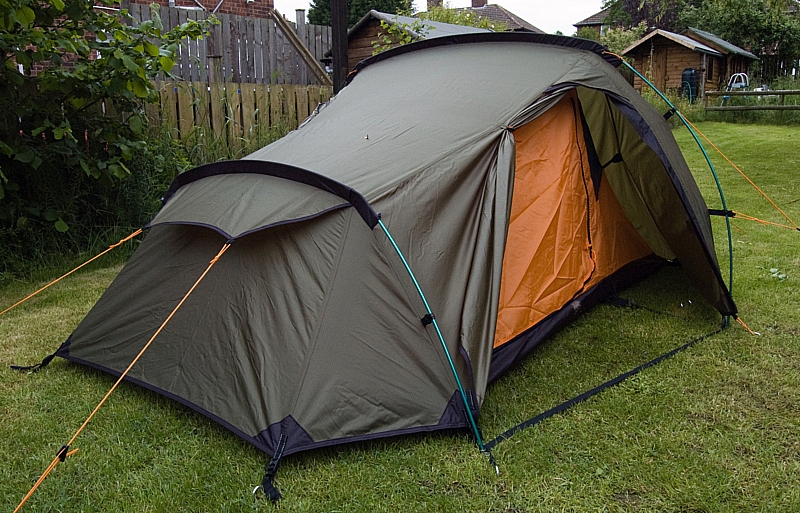 The main entrance showin' a reasonable area fer storage or cookin'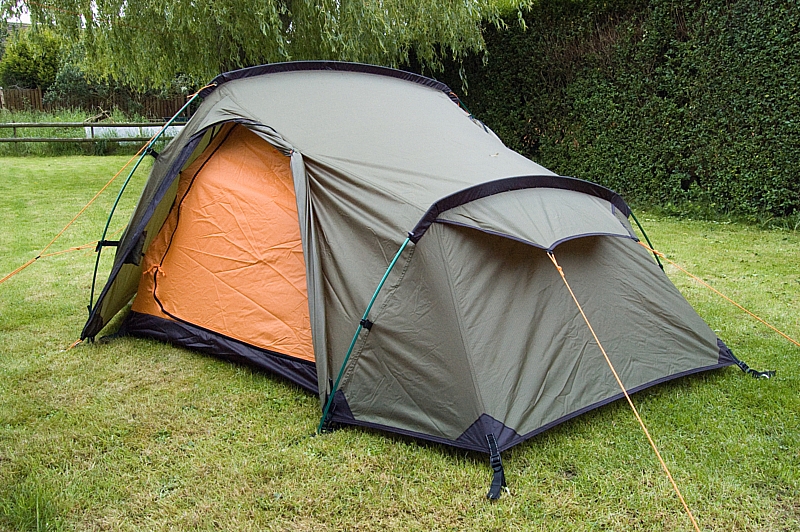 The secondary entrance
So, have ye spotted the problem yet? Maybe this next etchin' will make it more obvious:
 Both entrances in view
Yep, there be no webbin'-strap across the secondary entrance. In order t' get a taut pitch the pole-spacin' must be correct right at the start or the secondary entrance either flaps or pulls apart. I've a mind t' retro-fit a strap, I reckon I've got a suitable bit o' webbin' somewhere. Would have saved me some effort if it 'ad been right first time though.
You'll be wantin' a look inside, I suppose.
The inner be predictably saggy in parts, 'tis a design-constraint, it can't be fixed t' somethin' that's nae itself fixed or taut. Break out the biscuits 'n weevils! The inner hangs from under the pole-sleeves an' be clipped or toggled t' the fly in various places, I'll warrant ye. To be fair, 'tis less saggy when the inner flaps be zipped up but I needed 'em open fer these etchins. The groundsheet be o' the bathtub variety but 'tis a shallow bath - two inches max. The inner walls an' ceilin' be well-designed an' there be good headroom fer sittin' in comfort provided ye're nae o'er-tall. The head end be part-mesh so the ventilation be good. There be four basic mesh storage pockets an' zipped access t' the space under the front end o' the fly, wi' a chest full o' booty. This access has two covers - mesh an' full-fabric - an' so can be used as a further vent: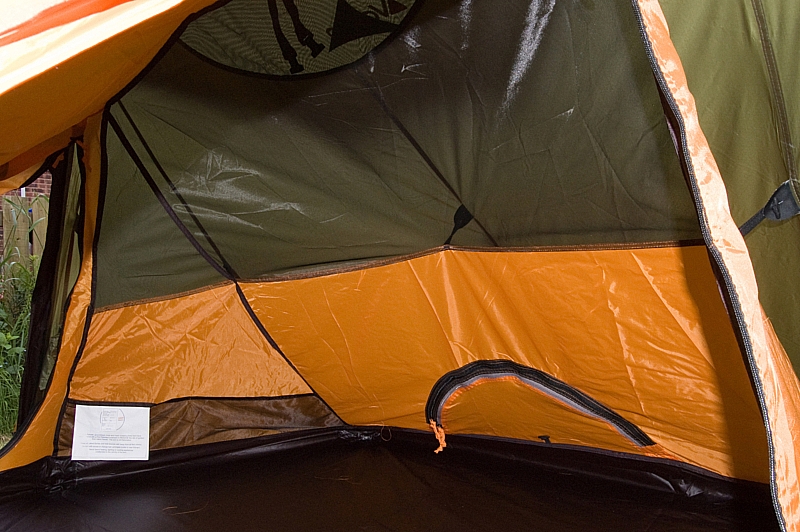 Head end detail

The foot end be basic, 'tis wide enough fer two kip-mats, there be another mesh panel an' there be good clearance fer big feet: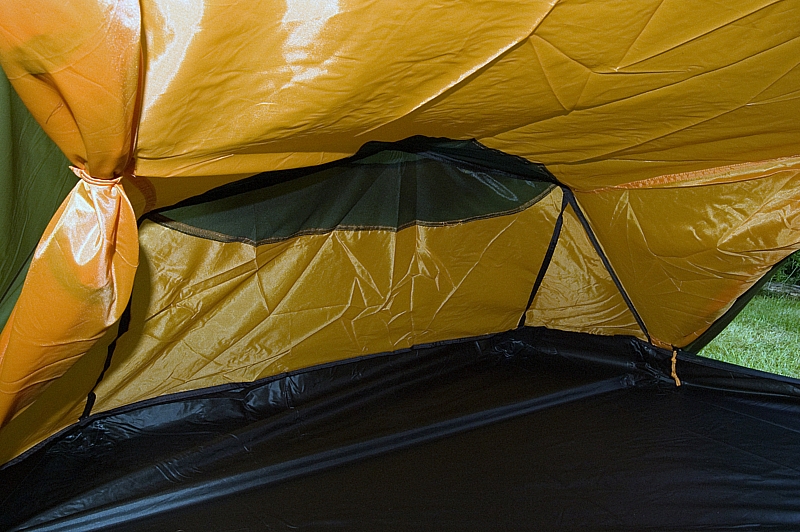 Foot end detail
There's nae much more in there. There's no gear-loft or hangin'-loops. The TBSII "Tension Band System" bands pass through the inner in the same vertical plane as the main pole, I havnae deployed the system yet an' so can't comment on its effectiveness or on its intrusion into the inner space.
It's quite a big tent, wider than I'd expected. It's billed as a three-person shelter but I think that's pushin' it a bit. It would just about cope wi' three in an emergency an' wi' most o' their gear left outside, but if comfort's yer thing then two-plus-gear would be about right.
Use the fly wi'out the inner an' ye'd have plenty o' room fer three. We be off the edge o' the chart, me hearties! Shiver me timbers! And ye'd have 898g less t' carry, we'll keel-haul ye! Yaarrr!! Maybe I'll give it a shot sometime.
In order t' give some sense o' scale I decided t' deploy our very own Banshee: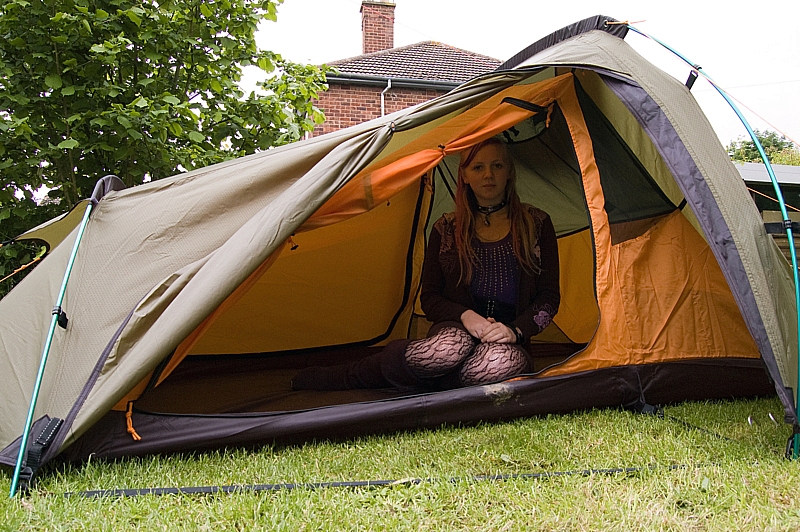 Sittin'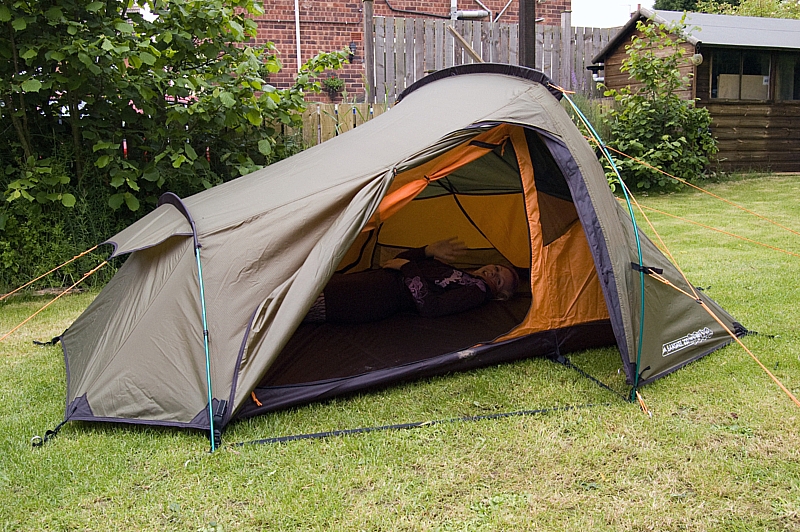 Lengthways
Widthways, just fer the hell o' it
The storage bag be o' the side-compression type an' it has an effective drawcord closure. There were bein' a length o' webbin' that connected each compression-strap an' acted as a grab-handle, a nice touch but I've removed it as I can foresee no use fer it.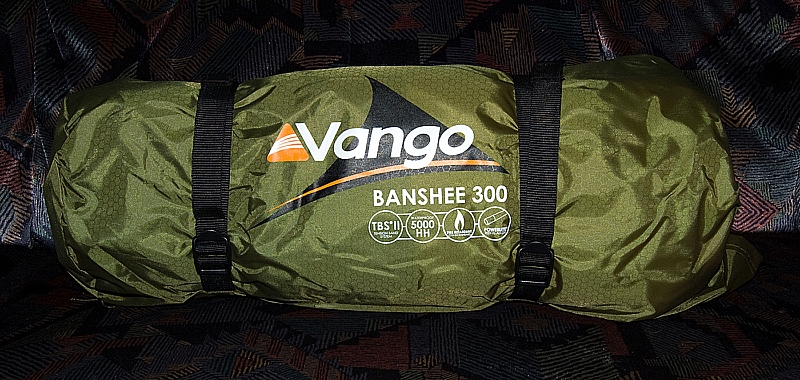 Compression-bag
So far the tent's been out in some heavy rain an' the fly sheds it well, directin' it away from the zips an' vents. Apart from the minor issues wi' the way the thing's been guyed an' the more serious problem wi' the omitted webbin' strap, I'm really impressed wi' this tent, I reckon that fer the price 'tis well-specced, reasonably light an' it'll be about right fer two folk on the hills. I'm lookin' forward t' seein' how it fares wi' me spendin' a night in it, but that'll be a tame garden-campin' test, wi' a chest full o' booty. We're scheduled t' take it on a wildcamp some time in the next few weeks when it'll see some proper action in the treeless wastes o' Skiddaw Forest.
The big unknown be whether Chris will like it. The winsome lass's used t' the luxury o' our 6kg 2006 F10 Spindrift which be bombproof, spacious an' taut inside (pitches inner-first), an' well-equipped wi' storage spaces at every turn, on a dead man's chest! I've a feelin' that fer 'er, goin' lighterweight an' downsizin' be goin' t' be quite a challenge.