Spurred on by our efforts to use a tarp to extend the comfy space around our tents while site-camping on holiday, and frustrated by the scarcity of Exped Arc Tarps on the market, yesterday saw the acquisition of a new bit of kit - a Khyam Atrium, which is in the current Yeomans sale at £20 below RRP.
It's a tent extension/porch/canopy affair with webbing straps and an elasticated and toggled drawcord to allow a neat and secure fit over the openings of most small/medium tents, and the poles are adjusted for height/width by means of a tension-band system between the pole-ends. If that's not enough versatility, the "middle" pole is adjustable in length so that you can get the height/width just as you want it. There are plenty of guying and pegging options, and, as you can see, there's plenty of room under it: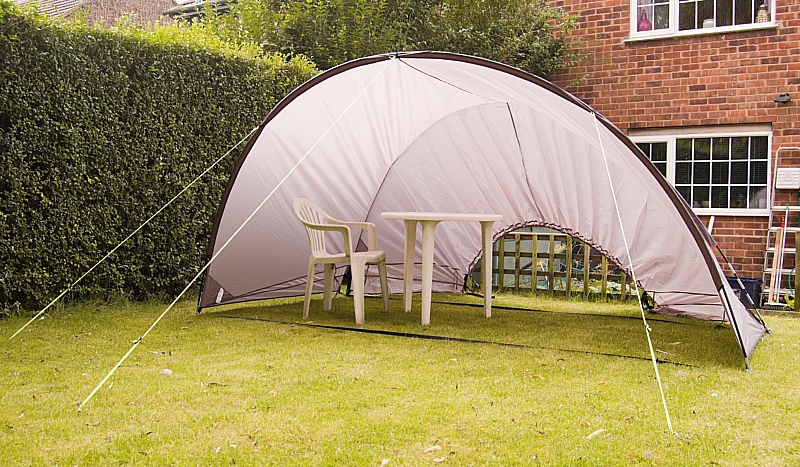 2 pics above: width = 3.5m, height = 1.5m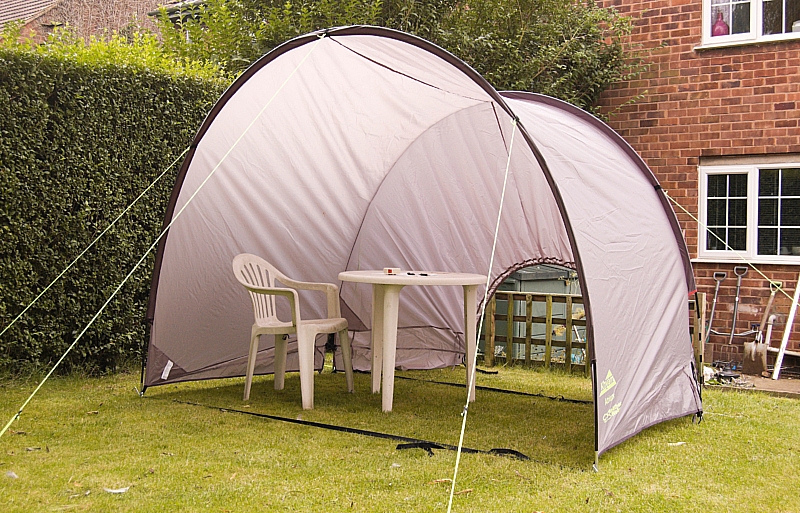 2 pics above: width = 2.8m, height = 1.8m
Above: pole-end spacing = 1.5m
Above: elasticated and toggled drawcord etc..
Above: length-adjustable pole.
Specs from the Khyam website:
Poles: Fibreglass - 9.5mm
Flysheet: Polyester 185T - 68D / 5000mm - Flame-Retardant - Taped seams
Height: Adjustable
Weight: 3.9kg
Dimensions: As the Atrium is fully adjustable it is not possible to list or show all dimensions.
Packed size: 64x12x12cms
Colour Options: Castle Rock / Paloma