Last night I managed to sneak out for another attempt at webcamming Saturn with the scope. The seeing was much better, but there was a lot of cloud about which meant that I had to wait for gaps in order to capture data. To get some idea of the improvement in the seeing, here's a 20-second loop from one of the .avi files, in .swf format:
These .avi files were taken with revised settings as per the advice of the folk on the SGL Forum, and because of their suggested improvements, this stacked interim image is my best one yet: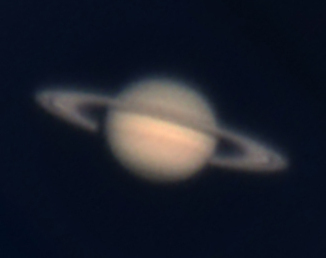 I'll finish it off later, when I've more time to learn all about the use of Photoshop layers. Hopefully I can sharpen up the edges and enhance the surface detail without losing more than I gain.
I would have taken more pics and looked at some other celestial gems, but the temperature dropped and all the mirrors dewed-up, so I had to pack away. Never mind, there's plenty of future to look forward to.
Onwards and upwards!
I'll post the settings here for reference:
******** Capture Settings:03 April 2008 / 22:37:32 ********
Program       :WcCtrl - WebCam Control Utility (V 1.5.46)
Cam Driver    : Philips SPC 900NC PC Camera (0xaf42ab7)
Comment added : a comment
******** Capture Cam Settings:03/04/2008 22:37:32 ********
Set-String    :
Brightness    : 69%
Contrast      : 51%
Saturation    : 31%
Gamma         : 26%
Color Mode    : 255(0=off)
WhiteBalanceM : 4(0=lamp,1=sun,2=FL,3=manual,4=auto)
WhiteBalRed   : 51%
WhiteBalBlue  : 52%
FPS           : 15
NonSC Exposure: 2(0..10=longest to shortest - depends on camera)
Gain          : 81%
FlipHorizontal: 0(0=off)
FlipVertical  : 0(0=off)
AutoExposure  : 0(0=off)
AutoAll       : 0(0=off)
-end of setting------------------------------------------------