During the early evening the weather was looking grim. Low clouds were scudding in from the West, making mount alignment impossible. After resigning myself to another missed night, I got the kids ready for bed and then went out for a smoke only to find the skies were clear with minimal light-pollution, so I raced back inside, grabbed the gear and got set up sharpish.
After three attempts to get the mount-software to accept a 3-star alignment (it's no fun having a 65ft willow tree in the garden obscuring all the reference stars!) I popped in the new Baader Hyperion eyepiece and had a look at a few old favourites (M3, M44 and M45) and was impressed with the view provided at this magnification. By this time, Saturn was well up in the sky, so I slewed around to have yet another look and there it was, bright and clear, banding visible on the surface and with moons to boot. The seeing wasn't good, thin clouds were forming and the image in the eyepiece was dancing around a fair bit, so I decided to skip the photo-session with the D50.
Taking the camera back indoors, I had a flash of inspiration/stupidity/call it what you will, and I grabbed the Olympus C730-UZ, set up the BH Zoom at 8mm and hooked up the camera in auto-focus video-mode. I set it running just to see what I could get, to download the movie click HERE.
Anyway, more of that later.
Ten minutes later and the sky was totally clouded over, so I put the kit away and set to with the laptop, trying to extract something reasonable from the movie file.
I had installed K3CCDTools3 (the free trial version) earlier that day, and was keen to see what it could do. Annoyingly, it won't accept .mov files, so I had to convert the movie to .avi and then start again. Plugging the .avi into K3CCDTools3 resulted in over 3000 .jpg frames, which I then sorted to drag out the best 20% which were auto-stacked to produce this image: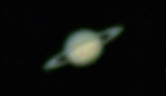 OK, so it's not properly focused (mind you, it's better than the previous shots I took with the D50), but I reckon it's not bad for a rushed first attempt with unsuitable kit and limited Photoshop skills, and good practise for using the cheap webcam that's due for delivery any day now.