During the day, it hides in the wardrobe...
at night, it just wants to go out and have fun, see the sights, shoot the moon, that sort of thing...
I predict that we can look forward to a deep and meaningful relationship.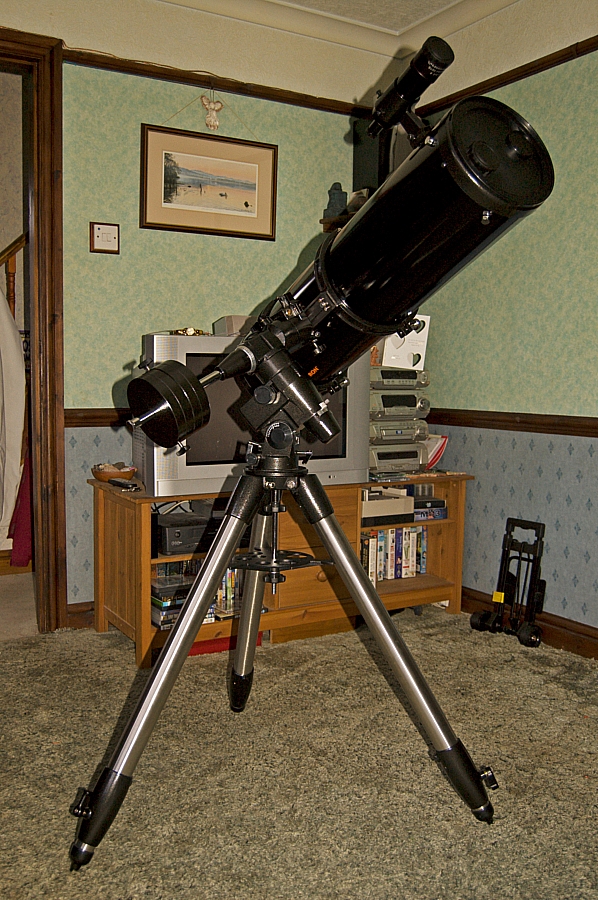 It's a Celestron Advanced C8-N, by the way. Here's the low-down:
General Details:
High quality 8" reflector
9x50 finderscope with bi-directional alignment screws and a spring loaded pivot support
2" focuser allows for use with 2" or 1.25" eyepieces
Slow motion controls for smooth tracking action
Heavy Duty (CG-5) German equatorial mount
Ultra sturdy 2" diameter steel tripod with accessory tray
Includes CD-ROM "The Sky" Astronomy Software which provides education about the sky and printable sky maps
Technical Information:
OPTICAL DESIGN: Reflector
APERTURE: 200 mm (7.87 in)
FOCAL LENGTH: 1000 mm (39.37 in)
EYEPIECE 1: 20 mm (0.79 in)
TRIPOD: 2 (two) inch Stainless Steel
HIGHEST USEFUL MAGNIFICATION: 480 x
LIMITING STELLAR MAGNITUDE: 14
RESOLUTION: 0.69 arc seconds
RESOLVING POWER: 0.58 arc seconds
PHOTOGRAPHIC RESOLUTION: 400 line/mm
LIGHT GATHERING POWER: 843 x
ANGULAR FIELD OF VIEW: 1 °
LINEAR FIELD OF VIEW (@1000 YDS): 52.5 ft (16 m)
OPTICAL COATINGS: Aluminum
SECONDARY MIRROR OBSTRUCTION: 2.2 in (55.88 mm)
SECONDARY MIRROR OBSTRUCTION BY AREA: 8 %
SECONDARY MIRROR OBSTRUCTION BY DIAMETER: 27.5 %
OPTICAL TUBE LENGTH: 37 in (939.8 mm)
TOTAL WEIGHT: 67 lb (30.39 kg)
TELESCOPE WEIGHT: Approx 19 lb (9 kg)
Normally priced up at around £375, they're currently on sale at £249 (inc. VAT and delivery) at various places, I got mine from Rother Valley Optics.