"Dr. 2"'s plan won out. In an effort to reassure me, I was told that they'd tested the ambulatory system on a couple of suitable Haematology patients last year, and that I was the first Haemo patient to have it "now that the wrinkles had been ironed out"...
The chemo for my third cycle was administered at home. High-dose Cytarabine given by pre-filled and pre-programmed portable CADD pump over 6 days as an ambulatory patient. 6 doses, 4 hours each.
Well, it didn't take long for me to find more wrinkles... plumbing errors, filter problems, valve problems, even simple things like being given a shoulder-bag with the strap sewn on at the base, not the top. And no, the thing can't be put into the bag the other way up - the display wouldn't be visible, and the light-sensitive chemo in the reservoir would be "exposed" and thus ruined. The instructions, however, do say that it's important to keep the pump upright. Doh!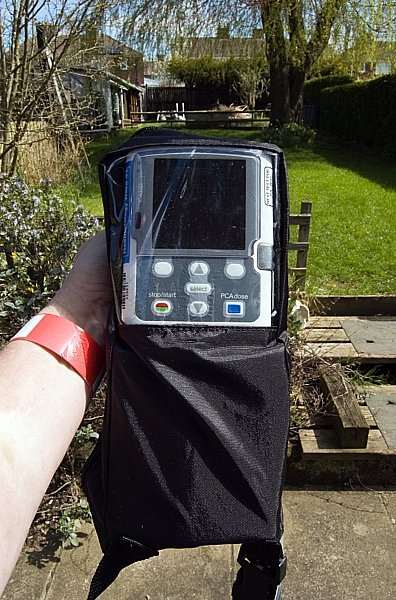 Anyway, all that finished on Saturday. I'm currently at home, blood-counts have crashed as planned, now we're just waiting for them to recover.
Hopefully this time it won't take a whopping 64 days for them to do so.