During the spring of 2013 we erected our "see if we get on with it" cheap polytunnel and we had a reasonable crop from it.
The only worry was durability - the frame was solid enough but the cover's stitch-work left a lot to be desired, and one of the window-flap's zips had gone a knacker within a couple of weeks.
Sure enough, it didn't survive to see this spring. One windy day in December totalled the thing within an hour:
We needed something better. We considered traditional framed jobbies but rejected them on the grounds of vulnerability - I didn't fancy the prospect of having to replace glass or plastic panes after they'd been speared by twigs and branches from the nearby Salix babylonica. Proper polytunnels were considered but the site is unsuitable for trenching-in the edges of the single polythene sheet covering.
In the end, after much "back-of-a-fag-packet" doodling, we settled on a hybrid design of five separate timber-frame panels covered with polytunnel-grade sheeting. Any one of the five panels can be removed for repair, and we can slip in simple extension panels if SWMBO decides that 3m x 2m isn't enough - the roof panel is oversize so we could go up to 3.5m x 2m if instructed. FWIW, I'm not planning to extend the height - IMO 2.2m at the lowest point is quite enough.
It took me and Chris (our helpful over-the-road neighbour) about a week to cut and creosote the timber and fabricate the frames, and another week to cover, staple and tape them. After that, the final assembly was a doddle.
It's been up and running for a couple of weeks now, the only thing still on the to do list is the guttering/downpipe/water-butt system. We've already got a list of possible future improvements (decking, trickle-watering, polycarb roofing) but that lot can wait until after the running-in period has exposed any unforeseen flaws.
It won't win any prizes for elegance but functionally it's excellent and maintenance should be a breeze.
You'll be wanting some pics, I suppose?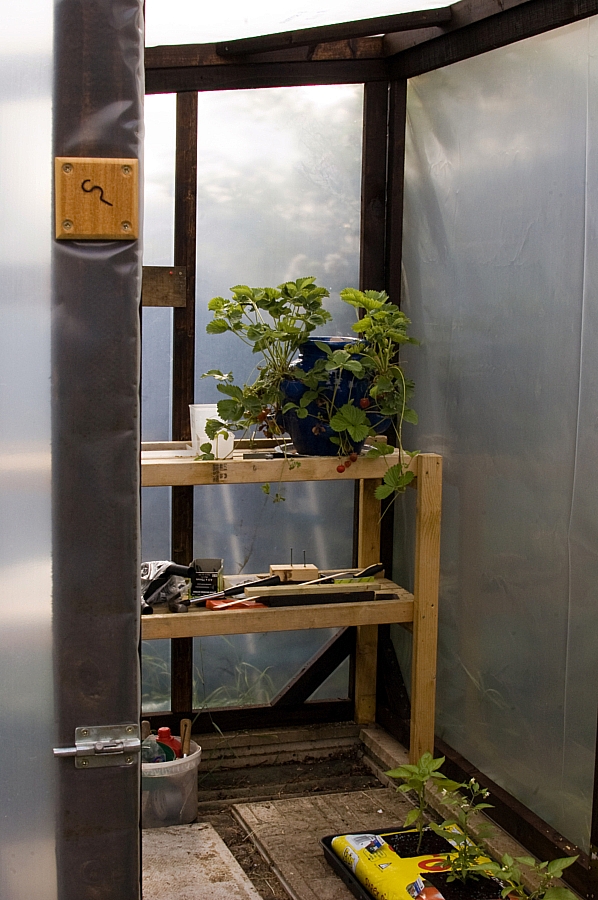 Now I suppose I'll have to sort out the rest of the garden 🙁
Oh, and just in case you were wondering about costs...
3x2 timber for frames ~£100
Misc. timber for windows etc. ~£20
Decking screws ~£10
Polythene sheeting ~£50 (enough in reserve for a full panel re-cover)
Mesh for windows ~£10
Tape for edges  ~£15 (plenty in reserve for minor repairs)
Misc. fittings ~£20
Auto-vent gadget ~£20
Guttering, staples, screws, door-bolt and a neat wooden monogram plaque - donated by Chris
Help from Chris - free and invaluable, I can't thank him enough