Click on any of the pics to open up a bigger version in a lightbox thingy, you'll need to wait until the page has finished loading.
Darren "whitespider1066.com" Christie called me up and asked me if I wanted to attend the Stoneleigh Outdoor Trade Show 2008 with him. Well, it seemed like a good idea at the time, so we arranged to meet there on Tuesday 30th September.
I'll spare you the ordeal of a full rundown of events, I won't even give you lists of kit-specs - you can get all that stuff at Darren's blog. Instead, I'll give you the edited highlights:
The first place of any note was the Inov8 stand, where we were treated to a lengthy demo of some of their lightweight hydration systems and Race Elite/Race Pro packs, and some other stuff. Nice kit, some of which is in "His 'n Hers" designs, just like in the following pic:
His 'n Hers pack designs - Inov8

I was impressed with the overall design of these packs, but I've still got reservations about that central zip and the way that the compression system pulls on it - I was assured that the zip's been tested and not found wanting, but if it failed, I can't see how the contents of the pack would stay inside. Oh, and I can't see the point of having a "waterproof" zip on a pack without sealed/taped seams. Maybe I've missed something there, eh?
Next up was the ARK display, where we concentrated on the OMM packs. I liked their Leanweight Link modular clip-on system, which means that you can "build" a carrying system from any bits of their range, piggybacking smaller packs onto bigger ones, and/or strapping other bits underneath. And what a great colour-scheme! This was my first encounter with the much-acclaimed Trio 4 litre chest-pouch, and it looked like a cert for a future purchase until the claim of "it'll fit onto any other pack" was blown out of the water when I offered up my Alpkit Gourdon... which has no "D"-rings on the straps. Anyway, here's a shot of a pack and belt-bag linked together in perfect harmony: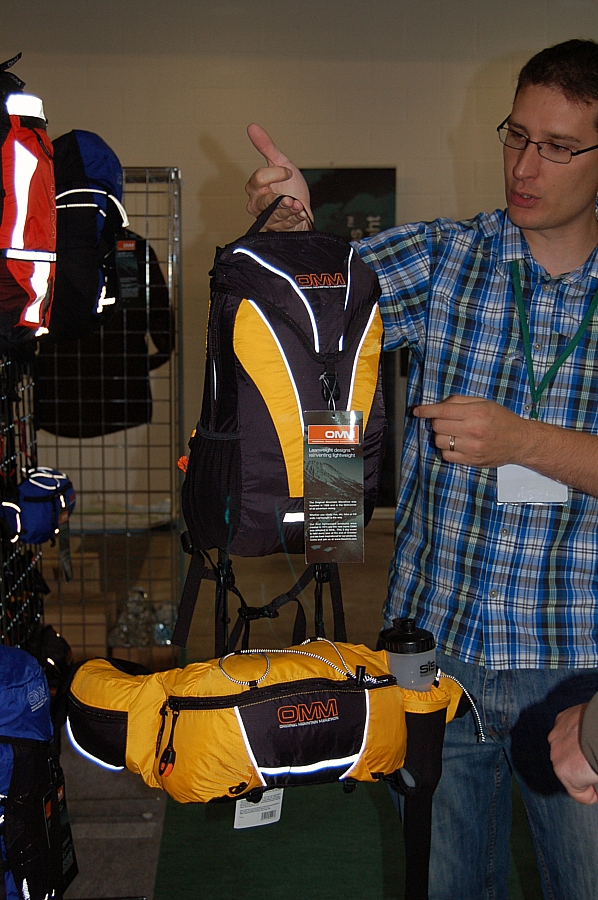 OMM Last Drop Pack and Ultra Waist Pouch
A bit later we arrived at the Terra Nova display and had a chat about their 1g Titanium Pegs - I have to say that I wouldn't be confident in using them - any thinner and they'd be cutting their way through the ground like cheesewires in the slightest breeze. I've no doubt that there's a use for them, but I don't have that use. I might be cajoled into trying them with my hooped bivi, but that would be the limit of my adventure, as I like my shelter to be secure without having to rely on my bodyweight to hold it down in a hoolie. Just for the record, the pegs are £15 for a six-pack.
Their lightweight Laser packs looked OK, with that waspy colour-scheme again, but we're back to full-length waterproof load-bearing zips again. They're not for me.
Lightweight Laser packs
Further on, Darren was keen to dig for info about Hi-Tec's use of ion-mask technology on their footwear, I was content to keep quiet and take some pics: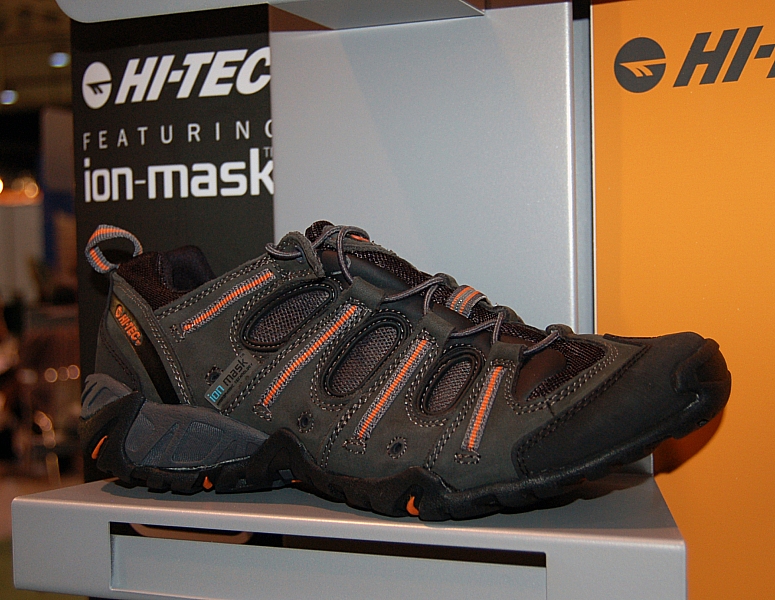 Hi-Tec ion-mask footwear - upper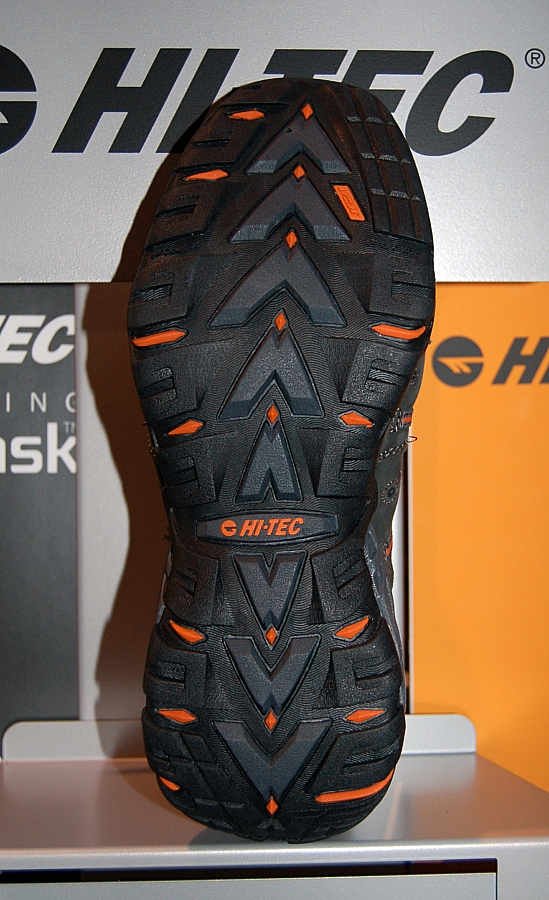 Hi-Tec ion-mask footwear - tread
At the Big Agnes stand we had a chat about gear-testing bloggers. A certain Mr. Macfarlane was mentioned by the staff. Seems he has the odd bit of kit from them, now and again.
Anyway, out attention was drawn away from the tentage to the Clearview sleeping-mat and the associated Cyclone SL Chair kit. I was quite taken with that mat/seat combo, it's got a certain simplicity and cleanness to it. For a short time, it was at the top of my list of must-haves.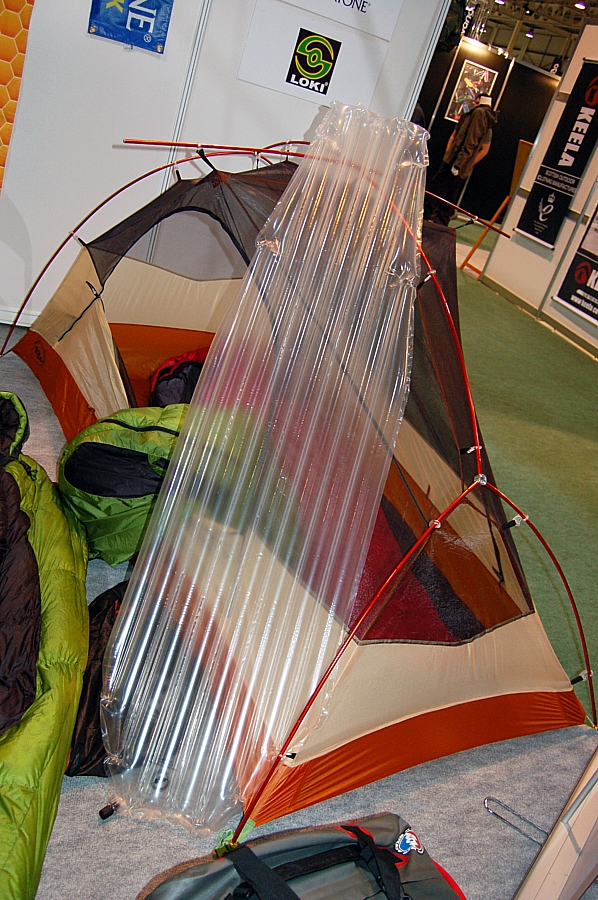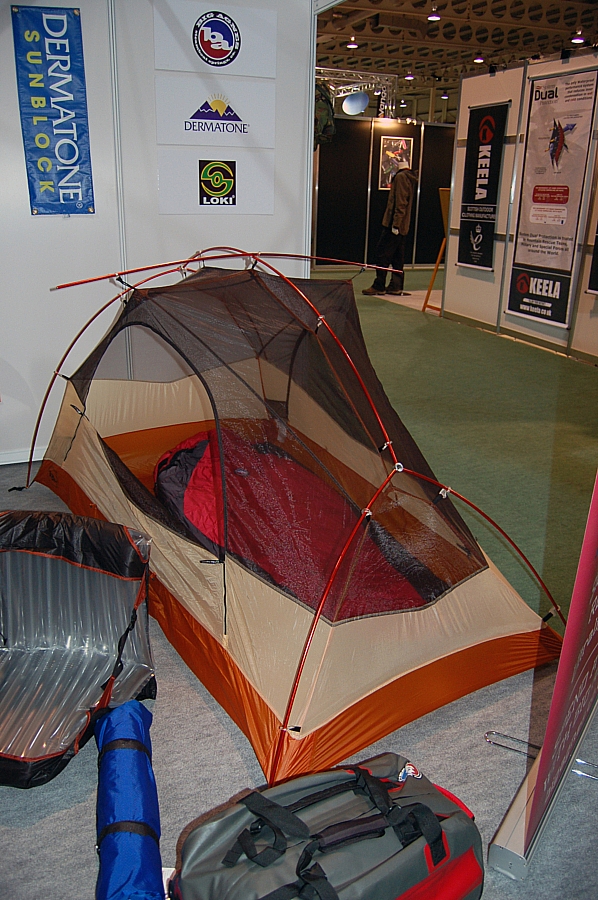 Big Agnes kit
We spent a fair amount of time at the Rosker stand, being treated to a set of first-class demos of the latest Primus stoves. First up was the Primus Eta Packlite, more of a multi-person stove system, and there's a lot of bits packed away in there. A neat bit of kit.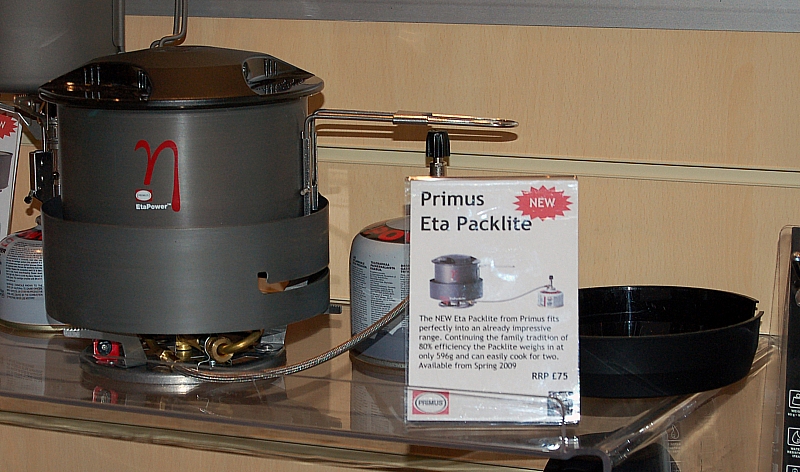 Primus Eta Packlite
Second was the Ti-Lite, a lightweight pot/burner/canister combi:
Primus Ti-Lite
and finally there was the EtaExpress. We were assured that it wasn't a competitor for the Jetboil PCS, but it was hard to see it in any other way - the similarities outweighed the differences:
Primus EtaExpress
The conversation strayed to other items such as in-line water-filters for hydration systems, but my attention was dragged back on-topic by the kind and timely offer of a freebie pack of Reiter Vegetable Risotto which was gratefully accepted on behalf of SWMBO.
Then it happened. I was idly perusing the gear on the First Ascent display when my gaze was drawn to the sleeping mats, and to the Therm-a-Rest NeoAir in particular. It just looked right - a mat with transverse cells so there's no fighting to keep shoulderblades from slipping into chasms between long cells such as those on the Insul-Mat Max-Thermo, which was the most comfy mat I'd ever tried until then.
It had to be tried, and soon was. After having a good lie down on it, I really didn't want to get up. Now I'm in love all over again!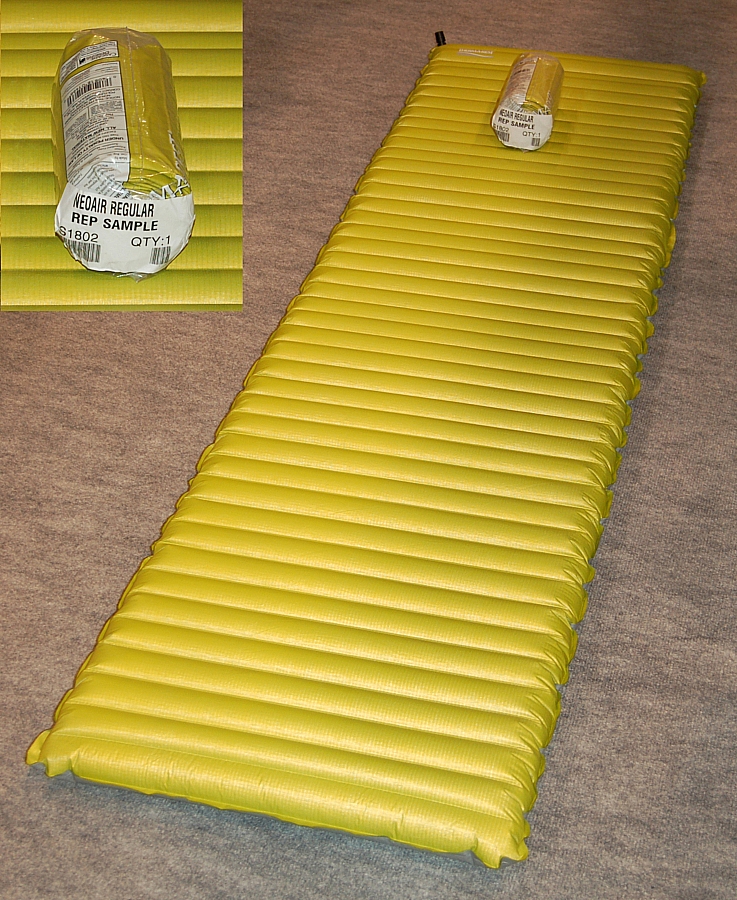 Therm-a-Rest NeoAir mats
For the record, the packaged one in the inset was labelled up as 20" x 48" Regular, which seems to be a labelling error. The deployed one in the main pic is 20" x 72". You can't tell from the pics, but the underside is slip-resistant, so there'll be no nocturnal migration downslope when used in anger.
One surprise was the encounter with HJ Hall. This company is located in my home town, being one of the few hosiery businesses still standing after the demise of the local industry. I took a good look at their new range of socks, especially the lined heavyweight Technical 4 Dual Skin and I'm tempted to ask them for some test-samples to see how they stand comparison to the other socks that I use (mainly Thor-Los, some others). They retail at under a tenner, which is much less than the others in my sock-stash, so I reckon it's worth keeping an eye on these.
Now I wasn't planning to visit the ENGO stand, but their product was intriguing. Blister prevention patches. Fitted to the boot, not the foot. If these work, the outlay on Compeed/Spenco/Zinc Oxide tape can be reduced. We were given some samples to test, all I have to decide now is which boots to test them in - I suspect that the Scarpa SLs will be at the top of the list.
The ENGO stand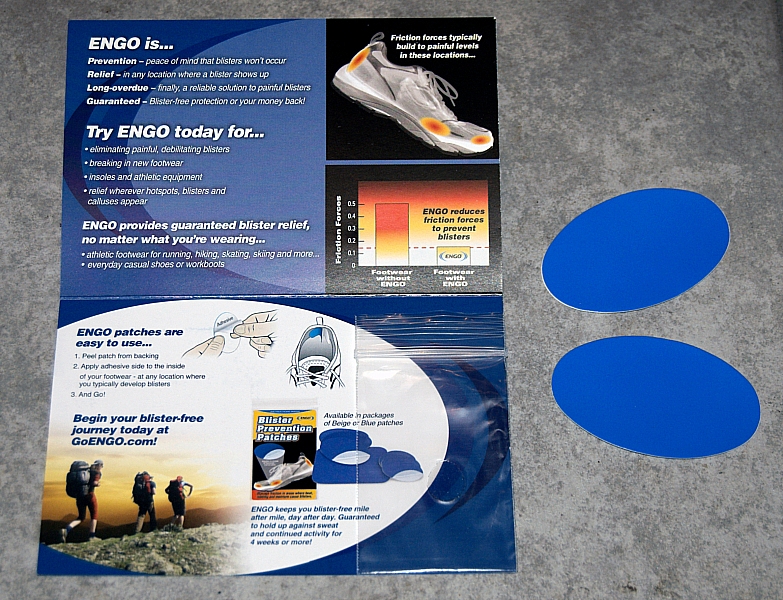 ENGO patches
The Anatom stand was demonstrating Pacerpoles. Now I'm no lover of standard walking poles, being firmly rooted in the biped camp, but I must admit that these things have piqued my interest. The first thing of note is the camera attachment widget that pushes into the accessory hole (I've an interest in all sorts of camera attachments - yes, it's sad, but it's not as if I've an all-consuming stove-fetish like another blogger that I could mention). Then came the coup de grâce - there's another attachment that links two poles to form an A-frame, which fits to a bespoke(?) tarp, which is a neat idea, something designed for the job, rather than using odd poles and whatever tarp is to hand.
Carbon Pacerpoles with camera attachment
I'm nearly converted. My bank-manager won't like it, but at least I can use the pointy ends of the poles to fend him off.
While we were at the Anatom stand, Darren allowed himself to be talked into having some Superfeet footbeds fitted. Now I'm not saying that he really needed them, but this is what they were replacing: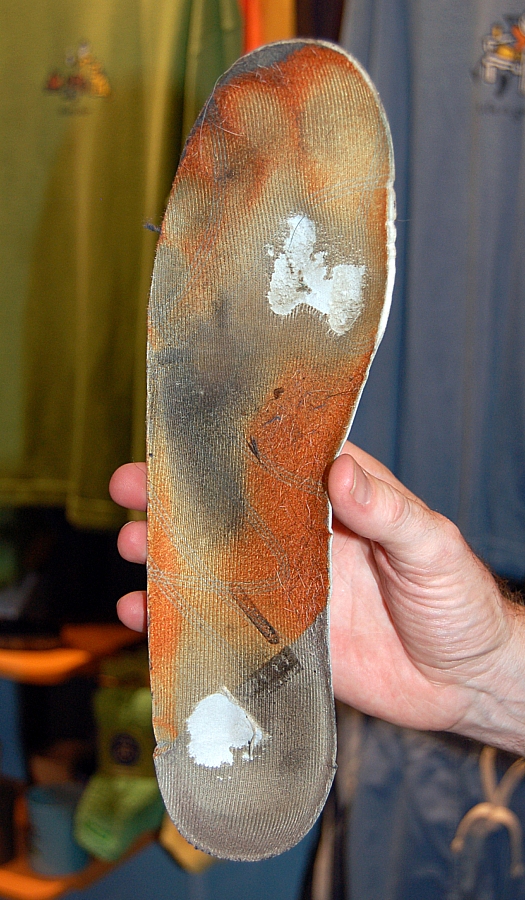 Not-so-Superfeet footbed
Just before leaving we went to see the Garmin display on the Dalesman stand. I had a very informative chat about their new range of do-it-all GPS units, and I got to play around with the Oregon 300 - very nice indeed. I left with a press-pack in a shoulder-bag, and an offer to contact them about acquiring a unit to test. It wasn't until I got home that I opened the press-pack to find that most of the promo material was on a 1gig USB datastick - how cool is that?
This was my first time at the OTS, so I've got little to compare it against. For gear-heads it's better than the OS Outdoor Show, there being more "cutting-edge" stuff to look at, and more time to discuss developments and ideas. Maybe they'll let me in again next year!
My thanks go to Darren for the invitation and the good company. It was a good day out.
Cheers, Darren.