Compared to the previous day of constantly overcast but dry weather, Saturday started out as a mixed bag of interspersed drizzle and dry sunny spells. We decided that we were going to have an easier day, and a visit to some waterfalls seemed to fit the bill nicely. A study of the map and a recommendation from a fellow hosteller resulted in us deciding to go to Skelwith Force, followed by a gentle walk along part of the Cumbria Way to Colwith Force.
I won't bore you with a step-by-step text analysis, you can just have the pics instead. Suffice to say that it was a fine morning walk enjoyed by all.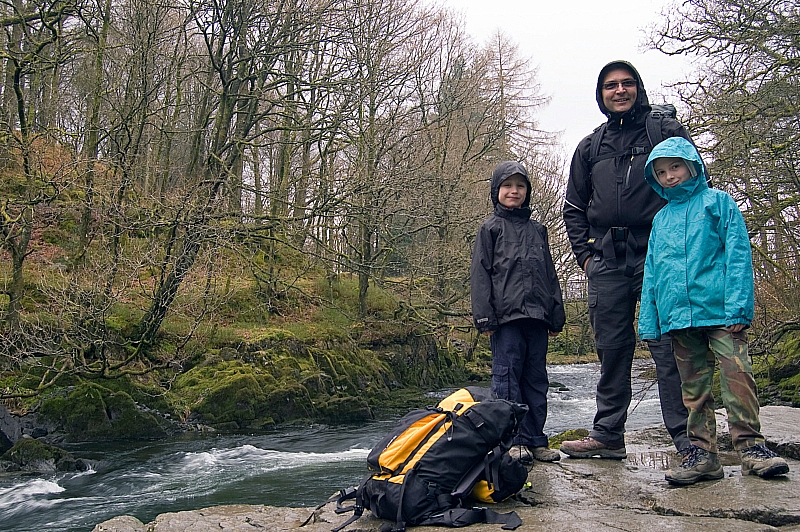 On the flat rocks at Skelwith Force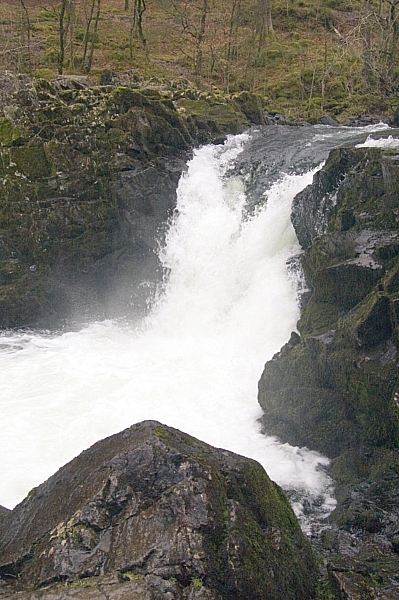 Skelwith Force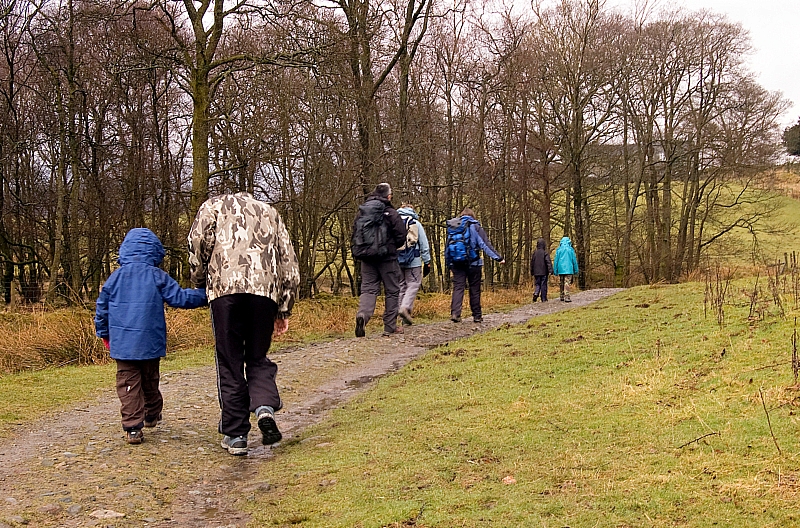 Near Park House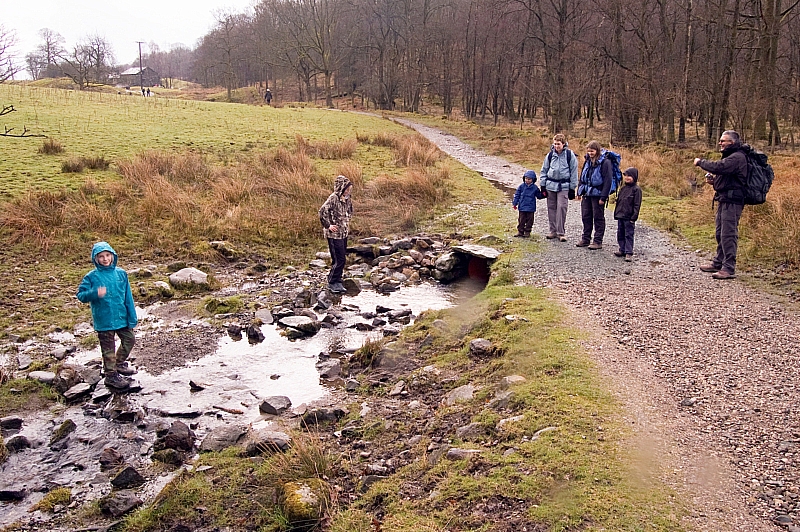 Near Park Farm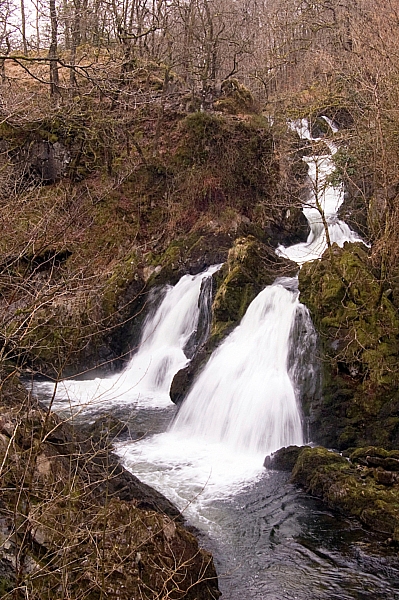 Colwith Force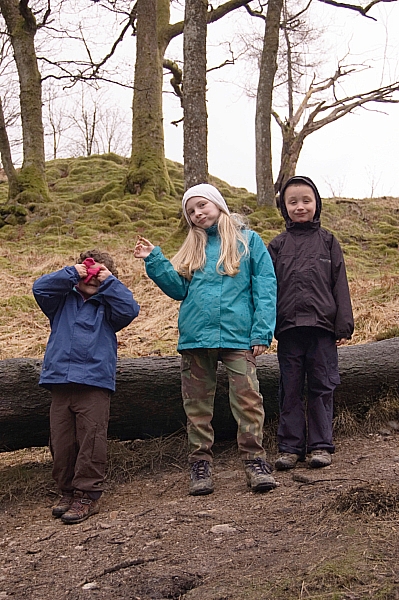 Staying away from the edge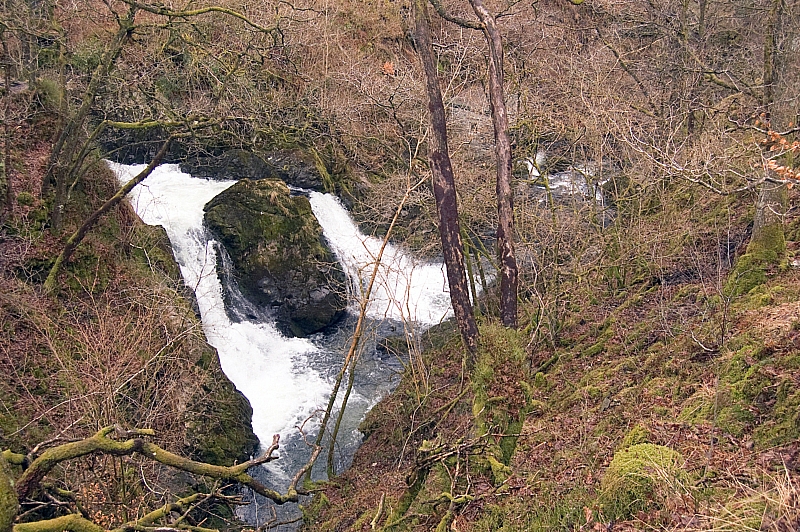 Colwith Force again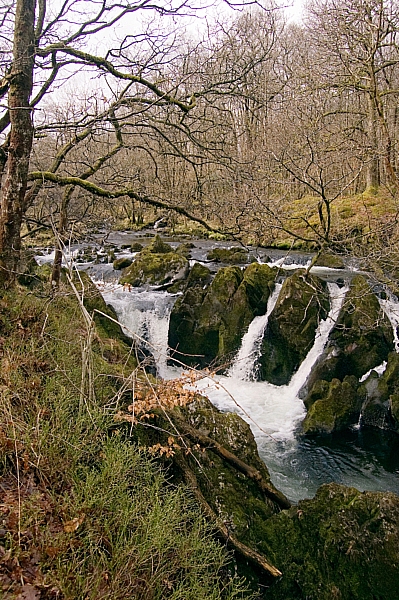 Above Colwith Force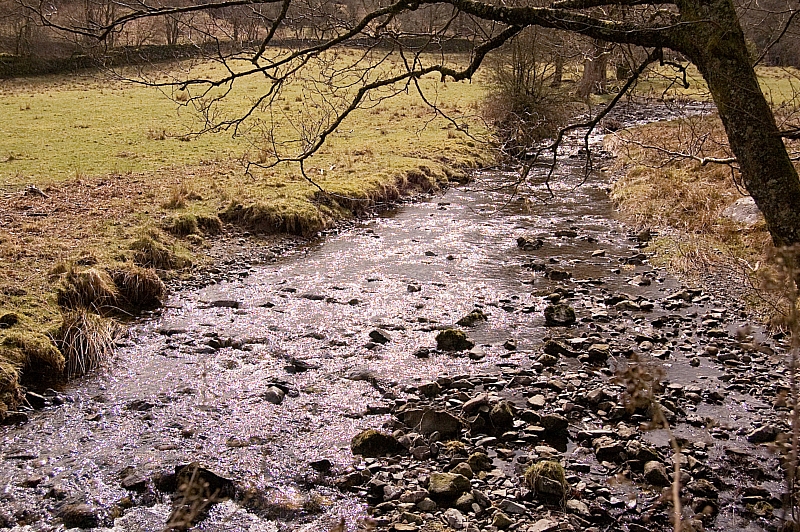 A tributary of Colwith Beck
After returning to the cars we spent the rest of the afternoon in Ambleside, as it was necessary to buy gifts for folk back home. We scoured The Mountain Factor, The Climber's Shop, Cunninghams, Gaynors and the like, looking for some good-quality bargain three-season boots for Ella, but to no avail. Needless to say we steered well clear of F***d and T**k. They may well have actually had what we wanted at 99% discount, but we wouldn't have given them the time of day, let alone the cash. We ended up buying a couple of cheap sledges instead, and the others bought Buffs.
Back at the hostel we did the quick wash/change routine and soon were back outside, this time heading for Windermere, searching for somewhere to eat. Most places were either closed or full, but we found The Elleray to be practically empty so getting a table for eight wasn't a problem. The place was brilliant - there was a good choice, servings were vast and the prices were seriously low, to the point where we thought that they'd made a mistake with the bill. The staff were very kid-friendly, supplying our youngest three with crayons and huge colouring-books to use and take home. The place was packed out within an hour, with folk waiting for tables, so I guess that we'd just dropped lucky.
Back at the hostel again and it was time for the kids to chill before they went to bed: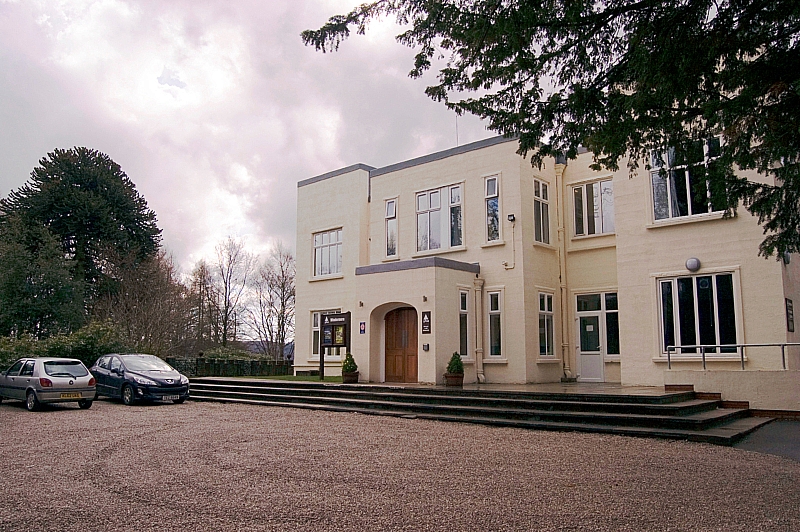 The Hostel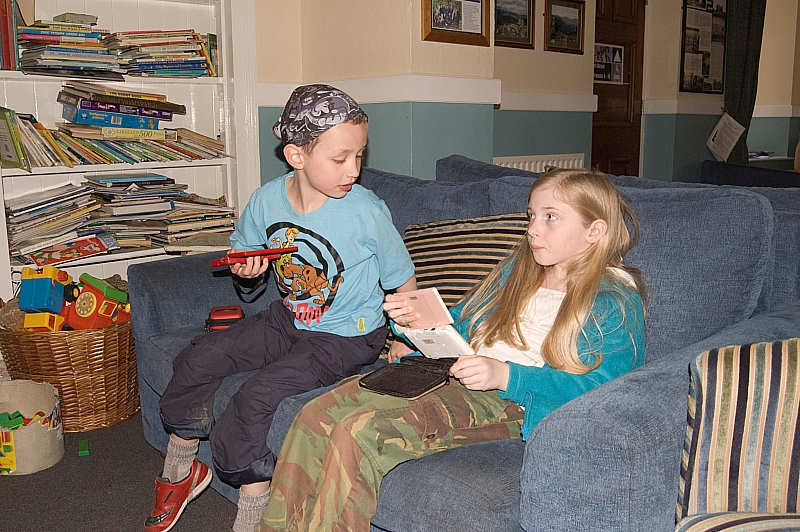 DS time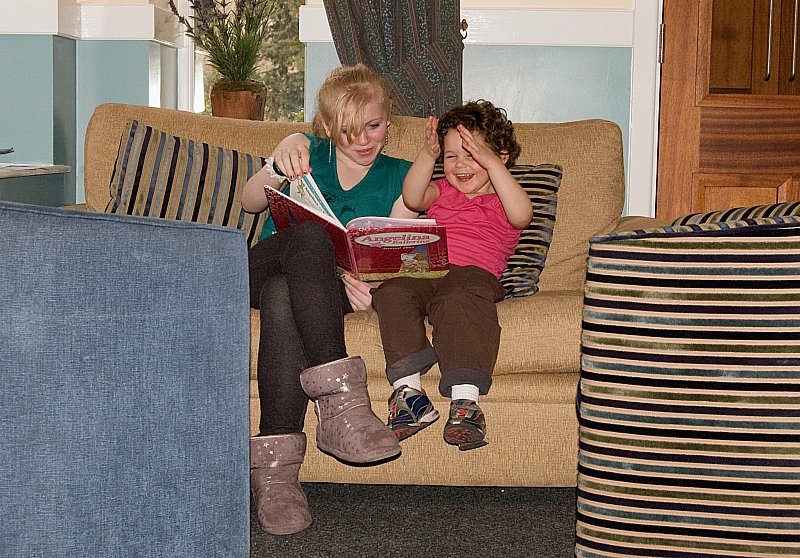 Story time
We adults managed some beers and chinwagging for a few hours before retiring to our micro-rooms.
On Sunday our friends had to leave straight away to visit relatives, but we had another morning to enjoy before heading home. The intent was to park up near Hird Wood on the Kirkstone Road and to walk the short distance up Troutbeck Tongue, but heavy rain in the night had made the route a complete mudbath and had made the stream too dangerous for the kids to cross safely. A quick change of plan saw us spend a few minutes in the car-park at the top of the pass, and then detour to Ambleside via The Struggle. The scenery was awesome, according to the kids, but the camera had been packed away so I took no pictures of the snowy landscapes. We carried on to Windermere where I pulled into the small car-park outside The Outdoor Warehouse - by strange coincidence our friends' car was already there. The shop wasn't open yet, so we decided to wait, just in case they had any suitable boots for Ella.
Well, I needn't have doubted. Charlie and Jon opened up the shop for us and we headed for the boots. I saw their AKU display and then saw the sale prices on their clearance lines, and I knew that we'd struck gold. Ella tried on some discontinued Croda GTXs (half-price at £87.50) and fell for them instantly. Despite her enthusiasm, Jon insisted that she wandered the shop in them for a decent amount of time, just to be sure that they really did fit properly and feel comfy.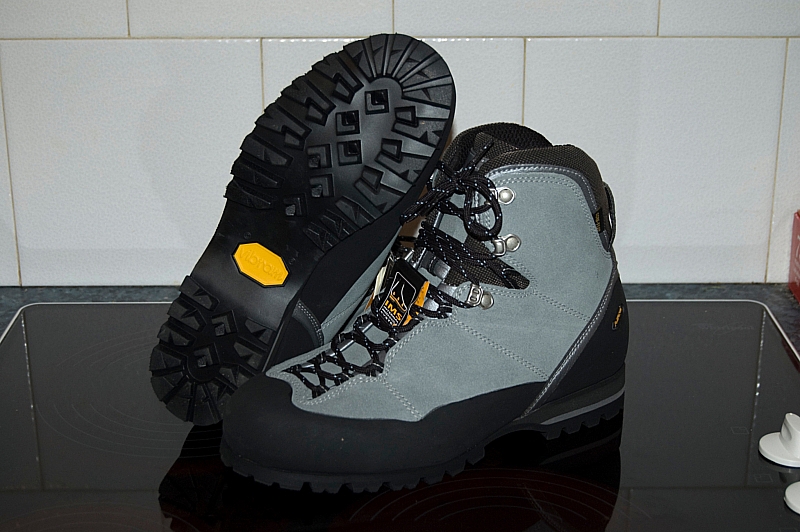 Ella's Croda GTXs
While this went on, I had a good mooch around the other wonderful stuff on display, refraining from investing in another Rab VapourRise jacket, and discussing Podcast Bob's Honey Stove, of which a fair few were on prominent display in the shop-windows. When Ella was sorted, I was asked why I was looking so envious. I had to explain that I'd been after a pair of AKUs for ages but could never justify the expense. I was led back into the boot-room where I was "persuaded" to try on some discontinued Edge GTXs, (again at half-price, this time at £80) but they really didn't suit my feet, and besides that I don't really need another pair of B2- or B3-rated boots - the Scarpa Freney Pros that I have will outlast me at the current wear-rate. They (my family) then cajoled me into trying the mens version of the Croda GTX, and I just had to buy them in order to stop them all nagging at me...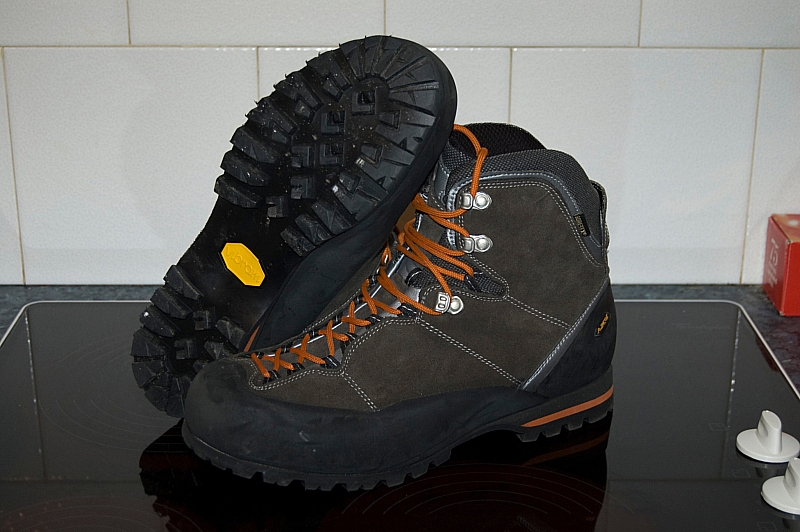 My Croda GTXs (bought under extreme duress)

So, if you're after some discounted AKUs, have a look at what the guys at The Outdoor Warehouse have to offer. When we were there they still had a good range of sizes (and half-sizes) and colours for quite a few discontinued models in the range. If you're into Marmot kit, they have some good 60%-off deals on "sample" garments too. Go see - online if you have to, but preferably in person, as Charlie and Jon are great guys to talk to.
There, I'll bet that wasn't the ending that you were expecting, eh? BG! buys something hi-tech and lightweight, but not "Jessiehiker". Ooda thunkit!