A movie with brilliant effects but this great opportunity was spoiled by a less-than tense ending following after a plot that was a tad weak. Not as good as Alien or the much-better Aliens, probably on a par with 3 and much better than Resurrection. Mind you, of the five it's the only one not rated "18" so maybe we should have expected less anyway. The AvP stuff isn't canon so there's no comparison.
I should mention that the scenic shots of Skye and Iceland were excellent.
I'll not post any more so as to not let loose any spoilers, but I'd guess that most of the folk at the same screening as us left during the credits and so would have missed the easter-egg at the utmost end... the Weyland logo followed by the words "Building Better Worlds since 10.11.12"... I suppose I'll have to get sad and find out what that's all about, after I've sussed if the date format's UK or Yankee.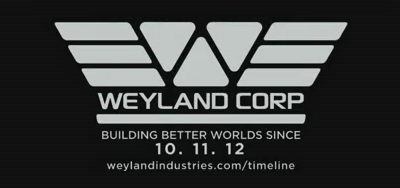 On the bright side, the trailer for The Hobbit: An Unexpected Journey looked good.