Of all the gifts given and received this festive season, the greatest of all was delivered by the postman just before Christmas... a parcel from Luke, containing a letter and gifts for his sisters and a letter for his Mum. Luke will probably never realise just how happy they are now, and there's no way that we could adequately express it on here, but we felt that we had to let the world know about it. In his letter he says that he's doing well and is enjoying his life, and we're happy for him.
In the letter to his Mum Luke raises many issues which are of concern, some of those issues are valid, some are not. It's clear that there's a need to deal with those issues, but sadly Luke did not include either a postal or an email address, so there's no way that we can have two-way communications to get things sorted. This also means that we can't send Luke the presents and mail that have been accumulating here for him since his departure.
The "Missing Luke Talion" Facebook group page has now been taken down by the page's administrator because it has served its original purpose and because Luke said that it was having adverse effects on his personal and professional lives, despite his claim that he'd not actually read it. We would like to thank everyone that supported the group, and also those who offered support via this blog. If you're one of them then you have our gratitude and we wish you well. If you still need to contact us off-blog about this, you can use the Contact Page here, it's email-based so whatever's sent doesn't get published on the blog.
One of the readers of the Facebook group kindly sent the page's administrator a recent photo of Luke out with some of his friends, here it is with appropriate pixelation: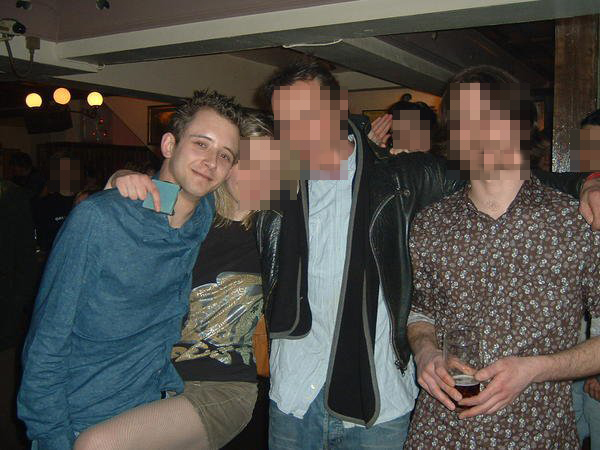 BTW, I'd decided on the title for this post some days ago, but I thought that I'd Google it to be sure that I'd got it about right. I'd say it's a coincidence of biblical proportions that the text is from Luke 2:10