51 today! A lie-in, breakfast in bed, pressies and cards - the perfect start to another roasting-hot day.
Outside the cottage the RAF did another low-level fly-by, I assumed that it wasn't all in my honour but it was impressive all the same:
Chinook #1
Chinook #2

Chinook #3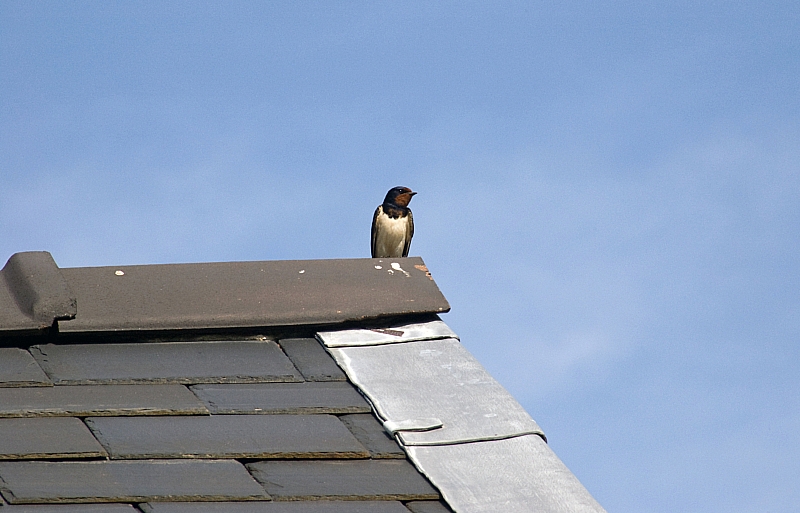 The resident Squadron Leader looks on, unimpressed by the thundering mechanical behemoth
We spent the day in Betws-y-Coed, sight-seeing and getting some retail therapy. As a birthday treat we dined at The Gwydyr Hotel, the food was very good although for some inexplicable reason, in a land that supports so many sheep, the kitchen had run out of lamb. No matter, the beef was fine alternative. Ice-creams were had from Cadwaladers Ice Cream Café, Chris got some walking-sandals from F*** & T***, and we spent much time in many shops trying and failing to get Anna some sunglasses that she'd be happy with.
After an evening meal back at the cottage me and Ella packed our kit - we were off up my mountain to introduce her gently to the delights of wildcamping. We took the same route as we had on Tuesday, eventually finding a great spot in the gap at the base of the Daear Ddu (a place that we christened "The Gap of Rohan"). We'd picked a fine night - clear, warm and calm, with a gentle up-slope breeze that kept the midges at bay. Ella went down to Llyn y Foel to get water while I pitched the tent:
The Banshee 300 pitched in the Gap of Rohan
After a supper of discounted Wayfarer meals (found a few days before in the bargain-bucket at Ellis Brigham Mountain Sports in Capel Curig) we settled for the night and slept well.
Friday morning was warm and clear, we were up at sunrise to see a warm glow on the mountain and misty haze in the Lledr Valley below. We wandered up onto the nearby ridge and had breakfast (courtesy of Decathlon's Aptonia range) al fresco on a suitable rock:
Moel Siabod cwm pano (the tent's on the left)

On the ridge just after sunrise
Lledr Valley - mist and haze

 Dolwyddelan Castle #1

 Ella doesn't do mornings...

but she does do breakfast

Dolwyddelan Castle #2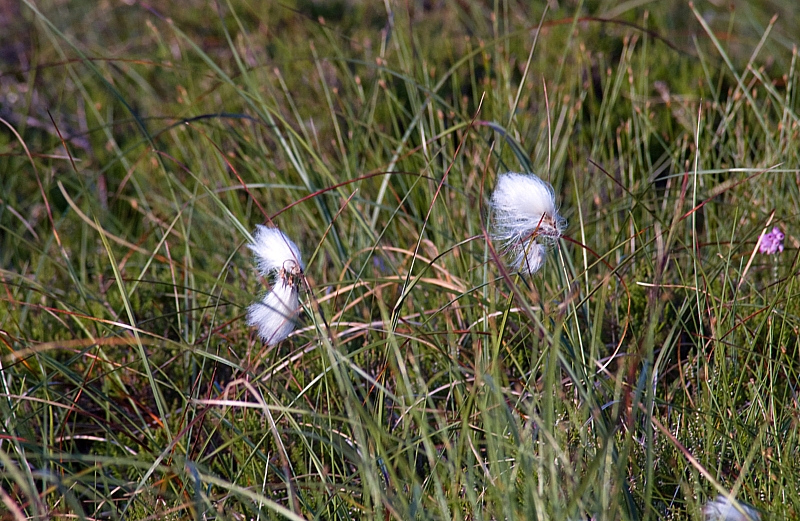 Cotton-grass
Ella
Heather
Knobbly #1
Knobbly #2
Striking camp didn't take long - we'd not brought much. With the weather set fair and with us being on familiar ground we'd figured that stuff like waterproofs, spare layers, rucksack liners, map/compass/GPS weren't really necessary. Hell, I even eschewed the Scarpa SLs and wore my tatty old Trezetas instead! No shorts though - I didn't want to scare the wildlife 😯
Holy Trezetas
We shouldered our packs and completed the circuit of Llyn y Foel, taking a few pics on the way:
Columnar jointing, Daear Ddu

Moel Siabod reflected in Llyn y Foel

Llyn y Foel and "The Gap of Rohan"
On the way back down we had time for a bit of exploring around the quarry. Ella kept finding rocks shaped like footprints, I aced her with this one that bore an uncanny resemblance to Brian Griffin:
Dug

Some of the small quarry buildings overlooking the reservoir looked like they'd be fine places for setting up a bivvy:
Quarry building 1 #1

Quarry building 1 #2
Quarry building 2 #1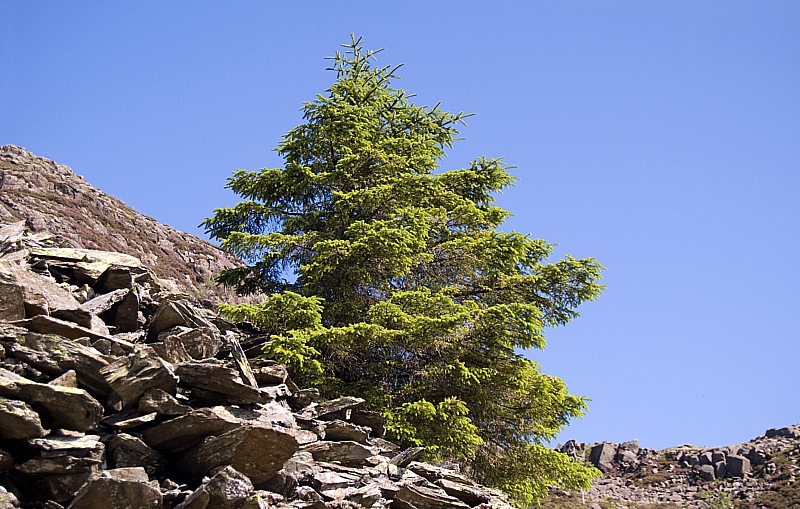 That Lonesome Pine again
Ditto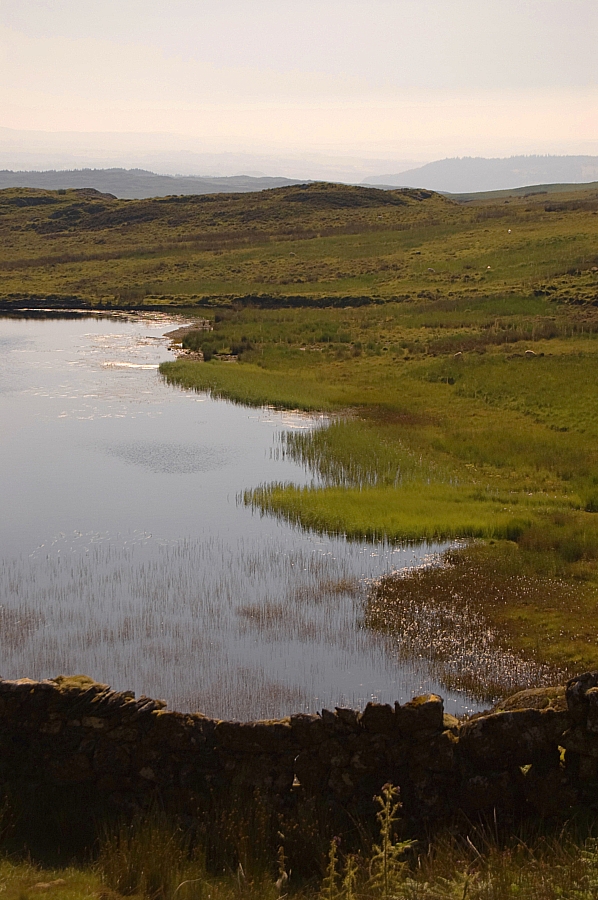 Reedy margins
Nearly back at the cottage the view was extensive - here's a 180-degree pano:

Widescreen
Before long we were back at the cottage. Chris did us a superb cooked breakfast, partly to refuel us and partly to use up the bacon, eggs, hash-browns and other such stuff in the kitchen.
The afternoon proved to be hotter than the morning. Nobody was up for going out so we spent a leisurely afternoon getting a lot of our stuff packed up in order to make Saturday's 10 a.m. getaway a tad easier.
Outside the view down the Llugwy Valley was being ruined by these festrous things: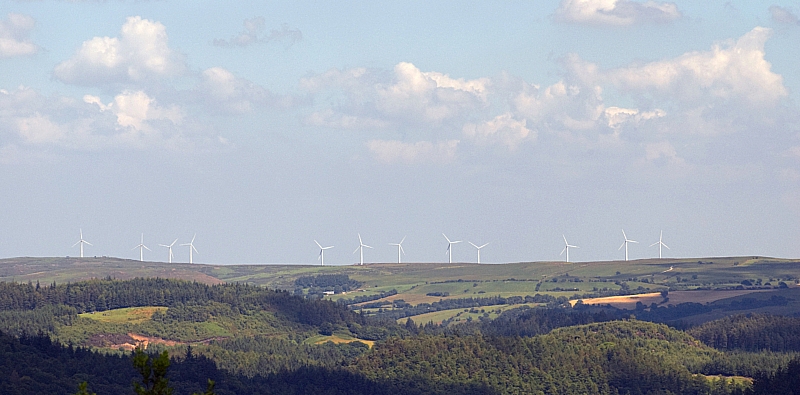 Soon afterwards the RAF provided more entertainment. We wondered if we'd been overflown by royalty:
Charlie's Angel?
Packing almost done, I took a few parting-shots of the cottages: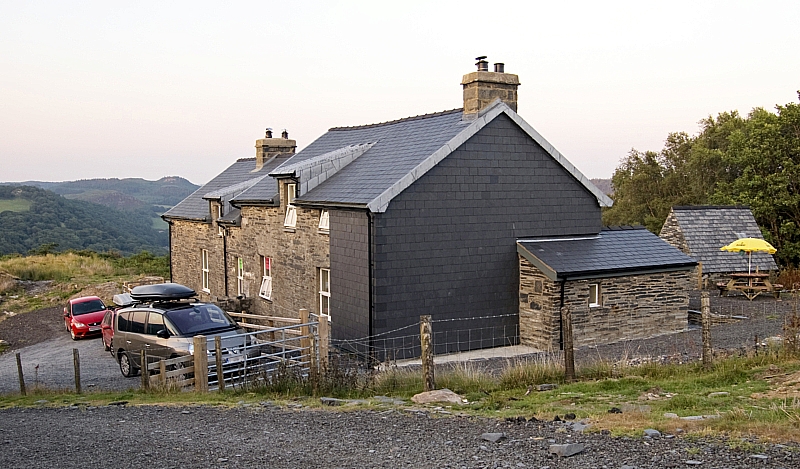 Cottages #1

Cottages #2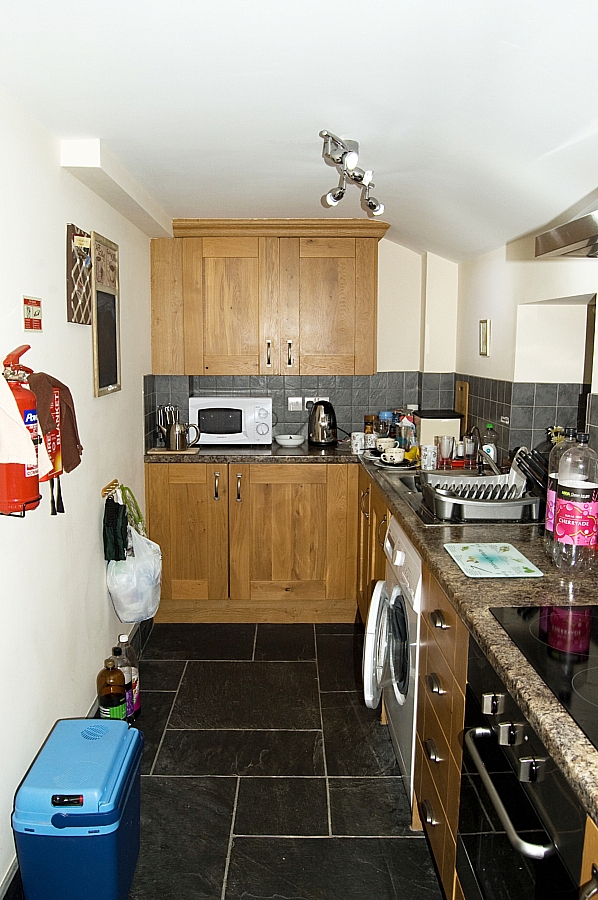 The kitchen

The Boss

After that, and after a third-and-final hot meal, we had an early night in preparation for an early start on Saturday.