Sunday morning dawned bright and frosty but without any overnight snow. The area around the hostel was picturesque in the morning light:
Looking towards Dixon Ground
Far End cottages
We were soon breakfasted, packed and away to Dunmail Raise - we had limited time for Wainwright-bagging as Frank wanted to go to the Montane sale in Ambleside and then to The Outdoor Warehouse sale in Windermere. We would only have time for one top, so we opted for Seat Sandal. Managing to get to the top of that one would be good for me - twice before, I'd sweated up Raise Beck only to be held back by reluctant friends or relations. Third time lucky, I figured.
We opted for the direct and steeper ascent up the West Ridge, reserving the Raise Beck route for the descent. Being in the open meant that the views were much better than what was on offer along the beck:
Moraines on Dunmail Raise
Thirlmere with Skiddaw in the distance
On the way up I was faffing with the camera and Frank had got well ahead. In my efforts to catch up I slipped on a patch of iced grass and landed on my knee. It didn't feel too bad at first so I ignored it, but after a while it started to give me hassle. I popped a couple of Ibuprofens which reduced the pain but the joint just wasn't acting right so I strapped it up and carried on. Common-sense said that I should bail after phoning Frank, but I wasn't going to fail on this mountain again. With much use of the "f", "b" and "c" words, I got beyond the break in the slope and managed to limp stop-start up the easy ground to the top.  Frank must have been waiting in the shelter of the wall for half an hour when I hobbled into view:
From the top of Seat Sandal

At the wall I popped a couple more pills and had a breather until I felt better. After a snack and a brew I managed to get a few pics before and during the knee-crunching descent northwards to Grisedale Tarn:
Fairfield and St. Sunday Crag
Dollywaggon Pike and the ridge to Helvellyn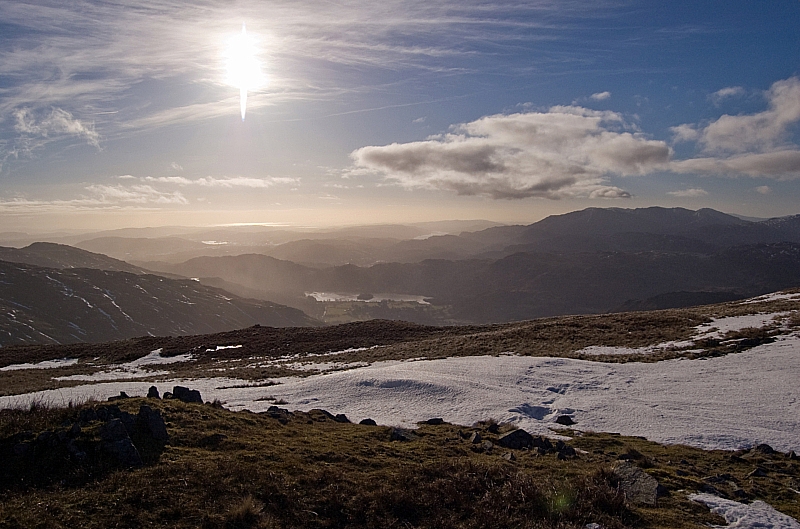 Alcock Tarn, Grasmere, Coniston Water, Esthwaite Water and hints of Windermere and Morecambe Bay
Around Grisedale Tarn
After reaching the top of Raise Beck and having another few minutes to allow the knee to recover, we pushed on down the icy path back to the cars, stopping only to take a few (poor) pics of some of the cascades:
Upper cascades

Lower cascades
After we'd got ourselves sorted at the cars we nipped off to Ambleside so that Frank could have a look in the Montane sale. There was plenty of nice discounted kit in there but we resisted the urge to buy. The same couldn't be said of our visit to The Outdoor Warehouse in Windermere though, where Frank brought forth and wielded his wallet for the purposes of Christmas-pressie shopping.
After that, we said our goodbyes and went our separate ways. Aside from a few miles of dodgy traffic on the M6, there was no more excitement. The knee now seems to be sorted, I expected it to be a problem for a few more days but I'm happy to report that I was wrong.