Tuesday was forecast to be a terrible day for family hill-walking - there would be county-wide driven rain and snow, icy strong winds and poor visibility even at valley-levels. Folk were being warned off the fells regardless of their ability and levels of equipment. Eskdale had decided to exempt itself from all that as the weather locally was dry, fairly warm and at times quite sunny. Nevertheless we knew that we'd be staying low and doing relatively easy stuff - Natasha still wasn't 100% and my rear-end was sore and raw after the exertions of the previous day.
After breakfast we decided to head for the coast on "La'al Ratty" with a view to walking some or all of the way back. The first objective was Dalegarth Station:
The "Lady Wakefield" waiting to take us away.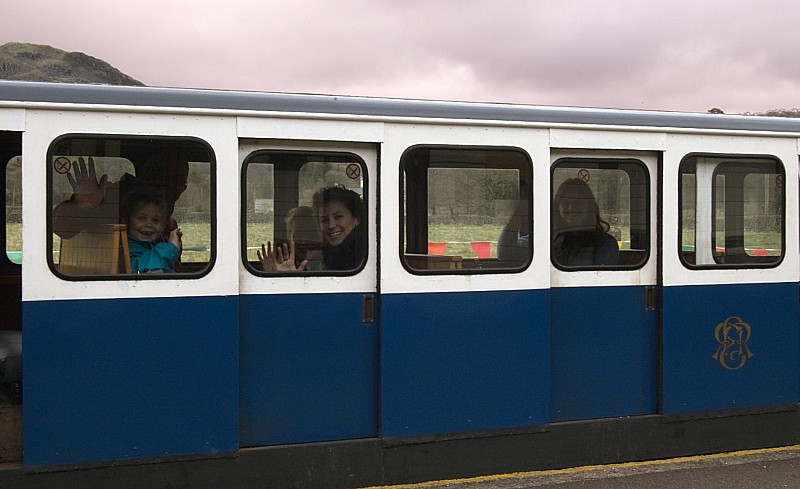 Compact, bijou and full of weirdos.
Anna looking smug after commandeering my Montane Lite-Speed H2O jacket and my gloves for the second day running.
The journey seawards was predictably bumpy and rattly but we still managed to nab some photos as we pootled along. Here's one that Anna took, I think the fact that it was shot through a rain-spattered window adds some sort of charm to it:
Nice work, Anna!
At Ravenglass Station I managed a few pics of the engines: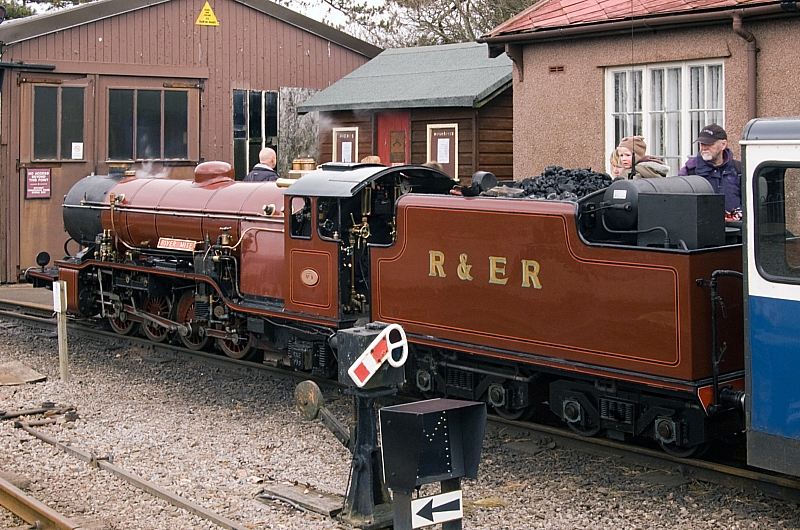 The "River Mite".
before being dragged off to sample the heady delights of the bustling village...
OK, so I lied.
We went into the sea-front tearooms to get out of the icy sea-breeze. And to use the loos. And to eat cake.
Suitably rehydrated and primed with tannins we headed off, wind-propelled, through the village and towards Muncaster Fell: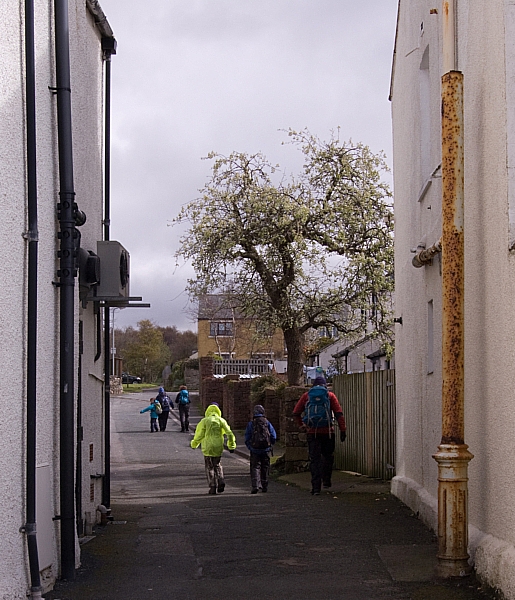 Testing the windproofs.
I took this one for Ian P, occasionally of this parish.
As we gained height the view seawards opened out and the weather improved: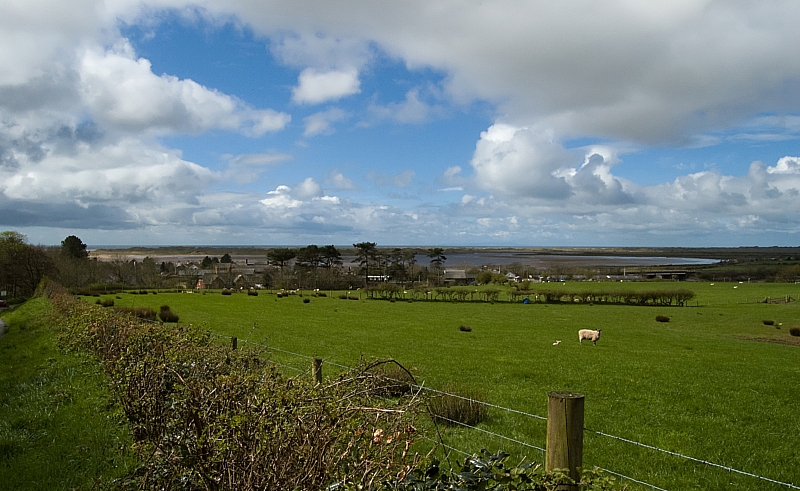 Ravenglass.
The verges and adjacent woodlands had definitely decided that it was Spring - there were Ramsons, Violets, Cowslips, Bluebells and all sorts of other such things in bloom or nearly so: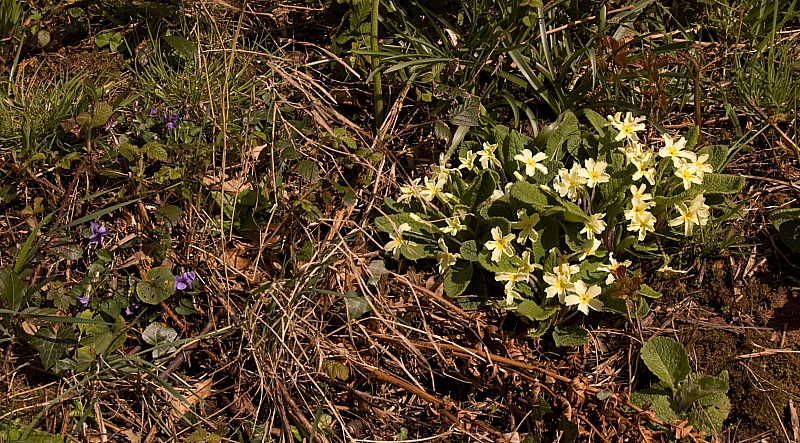 Further up, on Fell Lane, the view seawards was even better - the Isle of Man was clearly visible and there were glimpses of the Irish coast. Sadly I've caught neither in the following pic 🙁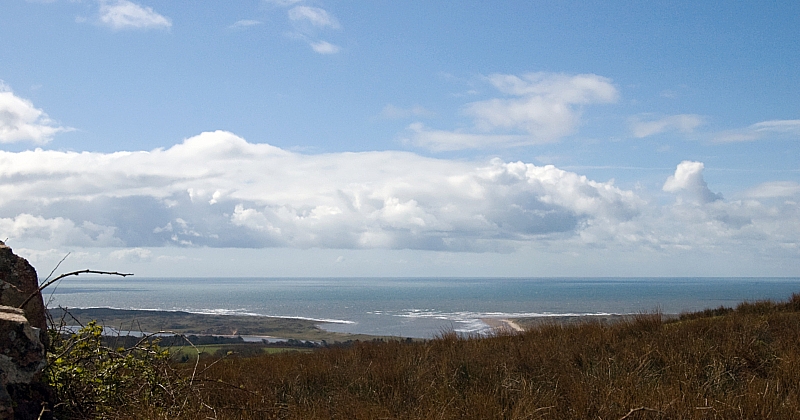 ... driven rain and snow, icy strong winds and poor visibility...
At Muncaster Tarn we stopped for lunch and an arse-rest. It's a pleasant place with woodlands and Rhododendron thickets which proved quite handy when Nature called:
Logs #1.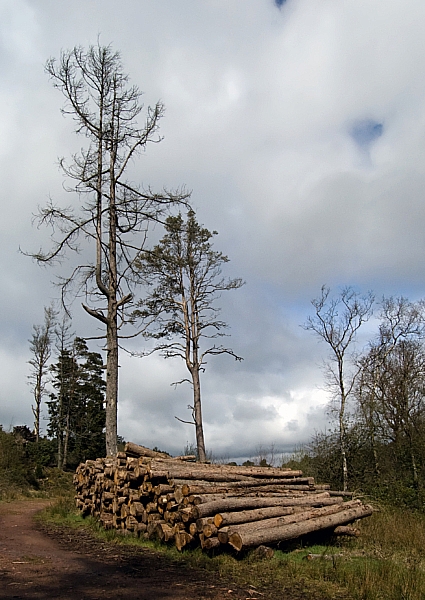 Logs #2.
Logs #3.
Stuff.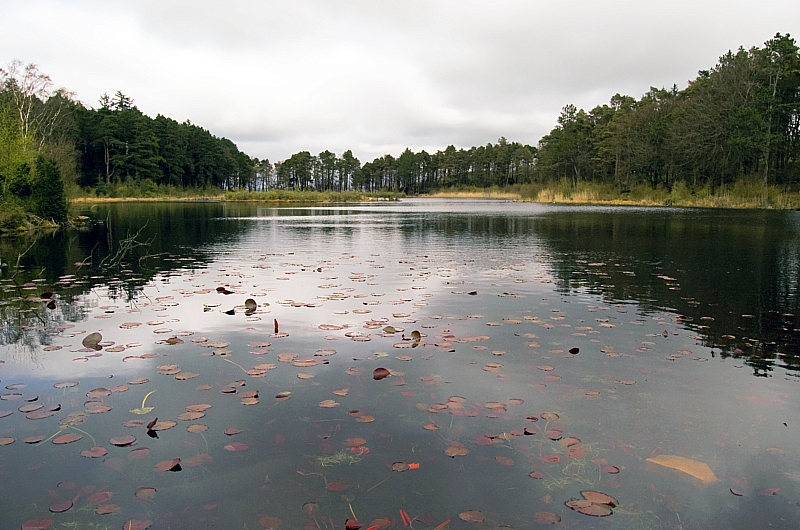 Muncaster Tarn.
After lunch we headed down the slopes of Chapel Hill through some impressive Tolkienesque wooded areas:
Woods #1.
 Woods #2.
Can you see a Red Squirrel in there?

This pic doesn't convey the steepness of the path down between the huge trees.
We passed by this monument, the map doesn't give a name for it but it reminds me of the Tower of Cirith Ungol: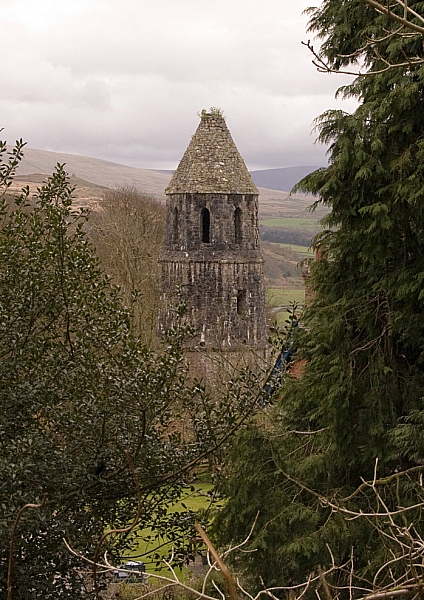 Monumental stuff!

Wood Sorrel.
Down at valley-level the views opened out as we headed further inland. Some parts of the place were beginning to look a tad Scottish:
Clouds over the Scafells.

We passed this aged sign indicating the presence of some Roman Tile Kilns. An expert may well have been able to tell us more and maybe even point out those elements of "national importance" but all we could discern was some mossy rubble and some fallen branches, so un-unusual that I didn't trouble the camera further. A field-trip specifically to see this alleged wonder of the ancient world would have been an utter disappointment:
Ministry Sign.
A short distance further on we turned northwards through the farmyard at Muncaster Head and were treated to a fine view of Harter Fell and Green Crag sitting under some brooding clouds:
Harter Fell and Green Crag.
We'd done enough walking so we headed to Irton Road Station to await the next train back to Dalegarth and to use the toilets!:
Platform peeps.
Sarah models the latest in outdoors attire, an over-the-head hard-shell garment designed to "shed" water 🙂
 Sarah models her invisibility cloak.
STO !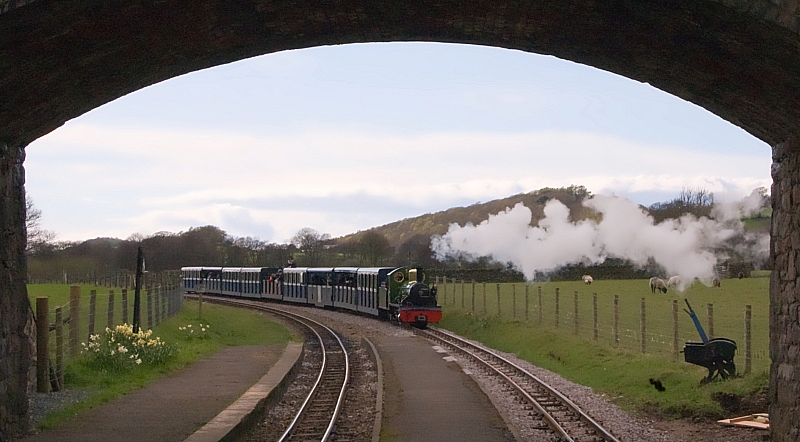 Those sheep really ought to cut down on the Woodbines.

Back at Dalegarth the view was immense - we could see TWO pubs!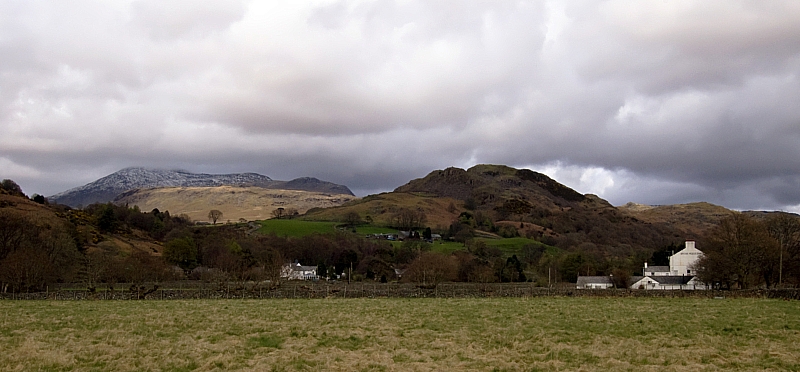 The Boot and Brook House.

Back on dry land we headed off down the road to read some menus. I didn't fancy Brook House because in years past I've been declined entry while in fellwalking attire. After reading their menu I dragged the others along the lane to the much-preferred Boot only to find that due to a staff-shortage they'd stopped doing evening meals. We went back to Brook House, booked a table for the evening and then carried on along the road back to the hostel. The sun was beginning to defeat the clouds again and we were treated to some fine scenes:
Harter Fell dominates the skyline.

Birker Force.
Back at the hostel we followed the usual plan - wash, change, play with the fire, rest the arse. The evening meal at Brook House was a tad expensive but the food was brilliant and the service superb, I'd now recommend it to anybody. After that we played with the hostel fire some more before retiring for the night.
Did I mention that it didn't rain on us? Three minutes of minor drizzle was all we got. While we'd been strolling in the sunshine the Scafells had been covered by a big dump of snow and Eskdale had been subjected to downpours and hailstorms. Jammy, eh?
To be continued...