I must have slept well on Tuesday night because the next morning was awake at stupid o'clock. The kids were still snoring and Chris was dozing on the settee so I grabbed the fishing tackle, made my excuses and went down to the rocks at An Laman just in time to catch the turn of the tide after this overnighting boat had departed. I'm not sure but think it was the gaff cutter L208 Eda Frandsen:
Setting sail
I was chucking 28g Tobys out to about 50 yards (wind-assisted) and was dragging them back just above the bottom, I was getting takes every three or four casts for a couple of hours, some stayed on the hook but a lot didn't. Even so, after an hour I'd caught enough keepers to feed the family and I ended up doing catch-and-release. In all, I'd caught about a dozen and brought home only three - any more would have been greedy. The biggest keeper was a shade under 5lb, I'd lost two others about the same size and there were two huge feckers that I never got anywhere near landing, I've no idea what they were.
Anyway, here's me handling one of my three pollacks:
None of these fish answered to the name "Colin"

A while later a shower passed over and treated us to a fine rainbow:
Shame about the post

The afternoon got progressively wetter so we got in the car and hit the road. First stop was the farm on the road to Uig to pick up some logs and kindling from their roadside honesty-box, then we went on into Uig to see if we could find anywhere that sold fishing tackle. Amazingly,  the is no such place in Uig, we were told that the nearest place to buy tackle was Portree! This turned out to be untrue - a few days later (and too late for us) we found that the garage/shop on the main road at Stenscholl near Staffin sells the stuff.
Instead of heading to Portree again we crossed the peninsula using the mountain road from Uig to Brogaig, stopping off at the upper car-park for a brief recce of the bizarre landscape area of The Quiraing. We didn't explore far as we were inappropriately kitted-out for the drizzly conditions, but it was still an interesting place to see: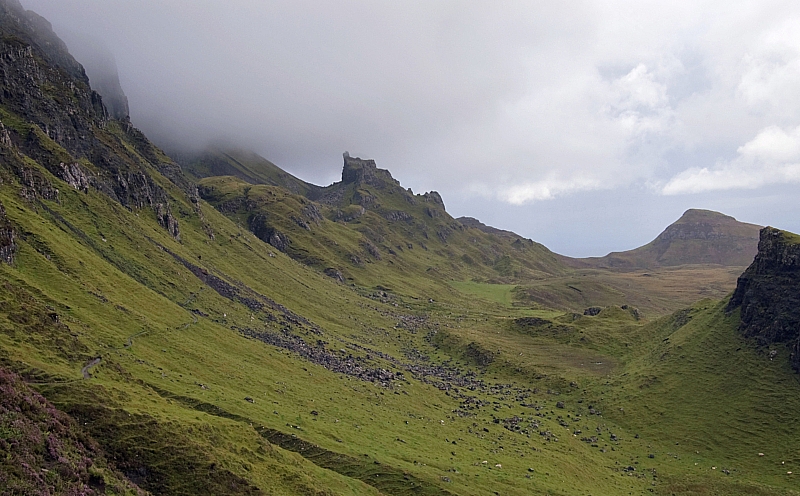 The Quiraing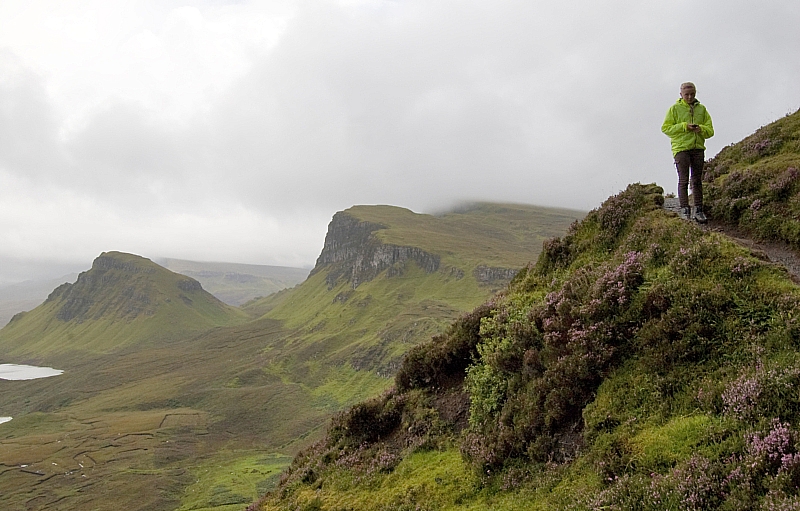 Bioda Budhie overlooking Cleat

The track across The Quiraing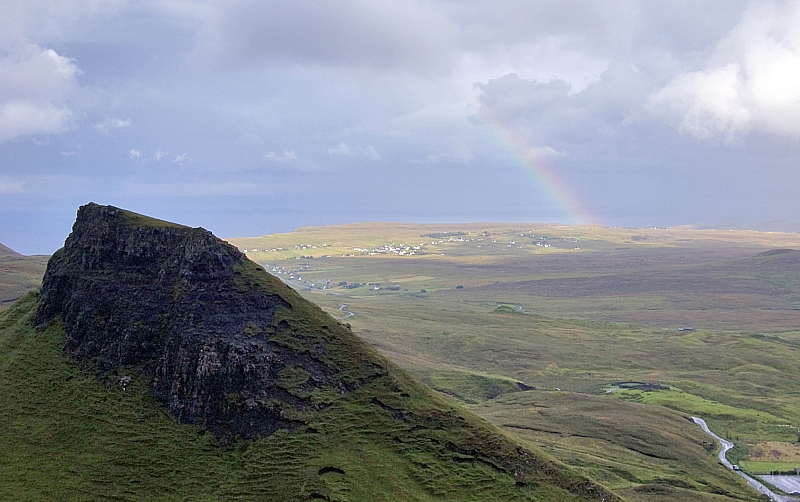 Rainbow over Staffin
Back at the cottage the neighbours were having a get-together:
Soay sheep?

Choosing an evening meal wasn't difficult, we cut the largest pollack into three huge steaks and open-baked them, they went down well with some spuds and fresh veg.. The other fish were gutted and frozen to take back home.
To be continued...