It's all a tad confusing down at the George Eliot Hospital ITU....
Fail 1: When visiting on Friday I was accompanied by a child and an adult, and all three of us were allowed at the bedside at the same time. This afternoon the visiting-party was me and two children, but on arrival I was told that only two people were allowed at the bedside so we would have to take turns. Somehow I was supposed to comply with that decree and with the rule that all children must be accompanied by a responsible adult at all times. I still can't figure out how to do that.
Fail 2: It seems like the Unit isn't always the Intensive Therapy Unit. Staff also referred to it as the Intensive Care Unit, the Intensive Treatment Unit, the Critical Care Unit and another title that I can't recall. Just to add to the confusion, there is a separate Critical Care area. Ask for directions and it's a Q&A session to figure out where you really need to go. It isn't just the staff though - signs and posters have the same confusing terminology. It's hassle and/or stress that ITU-patient visitors can do without.
Best of all, though, is Fail 3: Usage of communications devices... just look at these signs on the ITU security-doors: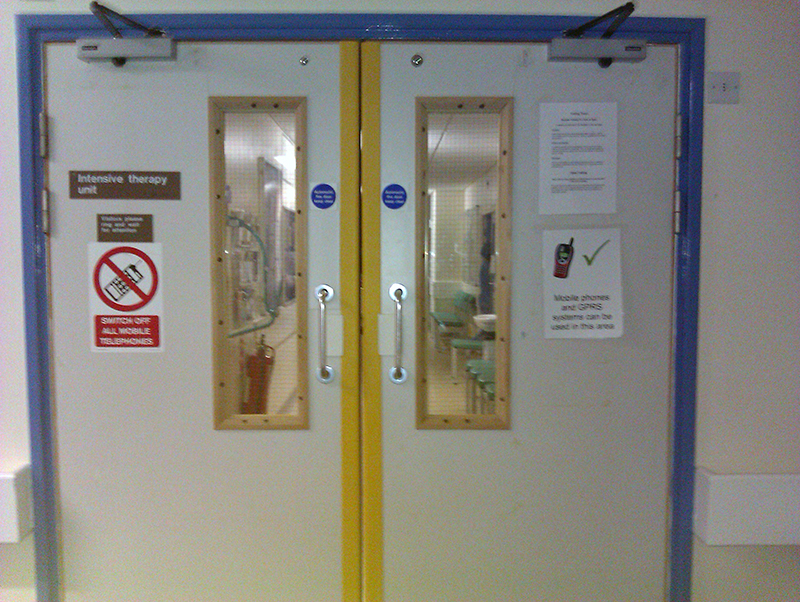 Clear as mud
as are my pics (taken with the phone)