The area around Schickard is fairly easy to see and to image when the Moon is approaching Full as it's well-lit from the West. Usually these conditions can be met during the hours of darkness. Trying to see it when it's lit from the East is a different proposition with the Moon approaching New and the sun nearby in the sky - usually it's a daytime-imaging jobbie, and that's what we have here.
The main object of interest here is Wargentin. Take just one look at it and you can see that it's not like standard lunar impact craters. No high walls surrounding a deep basin, here we have an impact crater that was filled to overflowing with basaltic lava to form a 900ft high circular plateau somewhat reminiscent of a huge coin.
Again, a red filter was needed to cut the blue glare and to reduce the effect of the bad seeing,  so the resolution's not great, but I'm quite pleased with the result...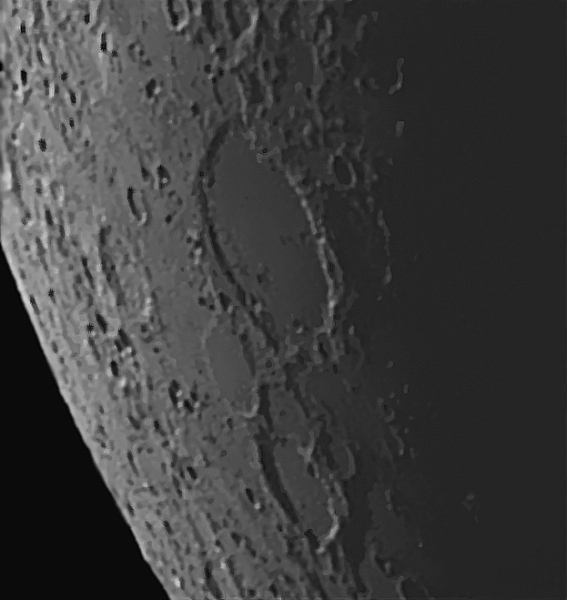 Wargentin (51 miles dia.), Schickard (137 miles dia.), Phocylides (69 miles dia.),
Nasmyth (47 miles dia.), Inghirami (55 miles dia.)
The "coin" effect is easier to make out in the above image if you cock your head over to the left. To save you from the hassle and inherent physical danger of such gymnastics, here's a rotated version:
If you fancy a peep at Wargentin, here's where to look: