Nearly caught up!
It wasn't the clearest of nights, but it was the first half-decent chance for over a month so I took it.
The first half of the session was spent setting up the scope and mount and then getting good polar-alignment. It's always a good idea to do proper checks after either maintenance or extremes of weather - it's surprising how much the ground heaves when it's gone through long freeze/thaw cycles, and it does affect the position of the mount's pier. Setting-up also included re-registering the reference stars so that the thing can work out where it's pointing (and can then work out where to find other stuff)... a time-consuming job if done to a fair degree of accuracy.
The second half was given over to visual observation and planetary imaging. While waiting for Saturn to rise to an acceptable declination, I got the camera set up and had a few practice-sessions focusing on double-stars and then I sat back watching for meteors. When Saturn was in sight I found that I'd picked a night when the huge "Dragon Storm" was visible, so I grabbed some footage of it for processing later. After that I went over to visual for an hour or so while waiting for the next target, Venus, to gain some height in the pre-dawn sky. Eventually the bright crescent of Venus climbed far enough to be nabbed by the CCD. After that I should have packed away but I couldn't resist the temptation to wait and see if I'd be able to image Mercury too. I could see it through the binoculars, peeking through the branches of a tree, but as I waited for it to clear the obstruction the sky became too bright to catch the planet on camera. Better luck next time, maybe?
Anyway, here are the results: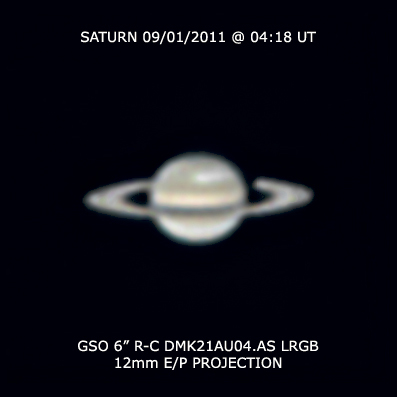 Saturn with storm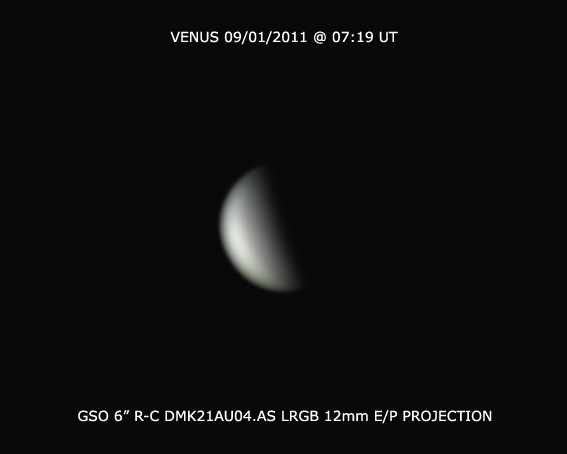 Venus