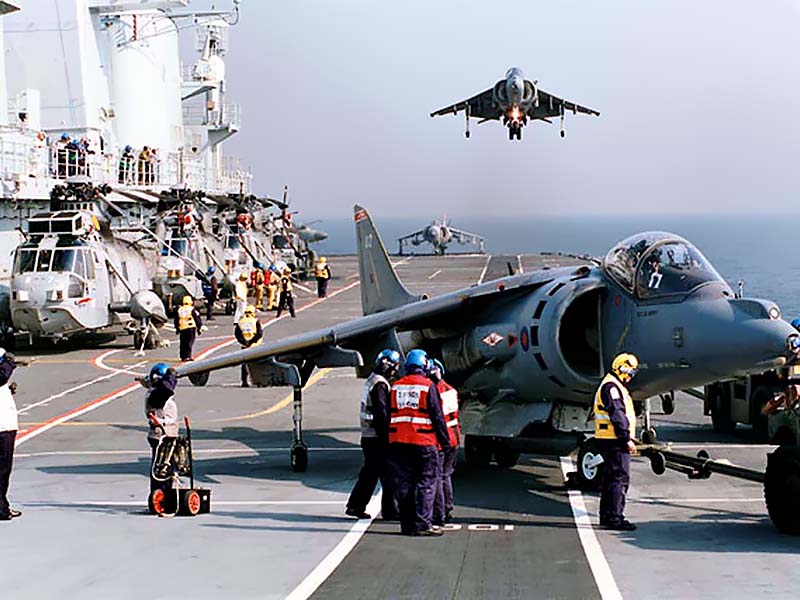 Harrier landing on HMS Ark Royal (source)
Where the hell is the sense in scrapping the Ark Royal AND scrapping all of the Harriers? This leaves Britain without a viable platform for dealing with remote conflict where we don't have access to a land-base, and it'll take ten years to get out of that hole (ten years during which anything could happen, not least the possibility that the two replacement carriers will be cancelled by future Governments). True, we have other carriers, but how effective would they be without the Harriers? The choppers that they carry are good but they just aren't suited to the same work.
In major conflicts, air-superiority has long been a necessary precursor to the success of land-based forces. Does nobody appreciate the fact that we'd probably never have set foot back on the Falklands without the Harriers that routed the invader's Air Force? Even Hitler knew that without knocking out the RAF, Operation Sea Lion was a non-starter. Times were hard during WWII, but can you imagine life here now if Churchill had scrapped the Spitfires and the Hurricanes?
OK, times are hard now and cuts have to be made, but let's be sensible. If the Ark Royal really has to go (and it's a moot-point), I'd have thought that it would be more sensible for it be sold rather than scrapped, and the Harriers redeployed or at the worst mothballed but capable of being recommissioned in times of need. Who knows what new conflict will arise in the near future? This Government doesn't, and clearly it doesn't give a 5h1t about the consequences if/when it happens.
On the subject of hard times and the National Debt, the question has to be asked - just how bad is it? As I understand it, most of the ND is because of gilts issued by successive Governments to raise money for whatever. This isn't a new thing though - the country has been running in a similar manner for many a year - the Bank of England has been exchanging banknotes for hard currency since it was set up in July 1694 in order to supply the King and Government with £1.2m to turn Britain, reeling from a defeat inflicted by the French, into a major global power. It's a system that works - folk invest in Britain because it's a sound investment and promises a decent financial return.
Bearing this in mind, surely we'll only really be in the crap when large numbers of those gilts have to be bought back or when it's time for the holders to cash them in and/or claim their coupons. I mean, if I was to lend you a tenner in the pub it's true to say that you'd be in debt to me, but we wouldn't be in financial crisis unless I needed it back and you couldn't stump up. So the next question has to be... is there really a long queue of gilt-holders taking their turns rapping on the door of Number 11 demanding financial reconciliation? If so, maybe the Government should consider keeping those Harriers for its own defence!