Wednesday evening was unexpectedly clear after several days and nights of grotty weather, and I wasn't going to miss the opportunity to get a look in so yet again I got set up after our weekly evening shopping trip. The seeing was reasonable and there wasn't a hint of a breeze but the humidity was high - it was a battle against the dew all night long. It's a good job that I'd been planning for such conditions - I'd recently acquired a set of anti-dew tapes and a controller-box and I'd made a decent power-pack. Again, the aim was to get some more views of Messier objects, image a few, and to return to Comet 103P/Hartley which is getting brighter and faster.
After a few hours I'd looked at 103P/Hartley and at a few Messiers, but many of them were difficult targets as they were drowned-out by the light of the rising Moon. Bearing in mind the condensation that kept forming on the scope's secondary mirror, I managed to get fairly good digital data for the comet and for M33 (The Triangulum Galaxy). The resultant (clickable) images are as follows:
103P/Hartley, currently in the constellation Cassiopeia.
The bright star to the left of the comet is Lambda Cassiopeiae.
Subs: 30 light @ 200s, darks, no flats, ISO200.
D50 and MPCC on the C8N, guided with PHD.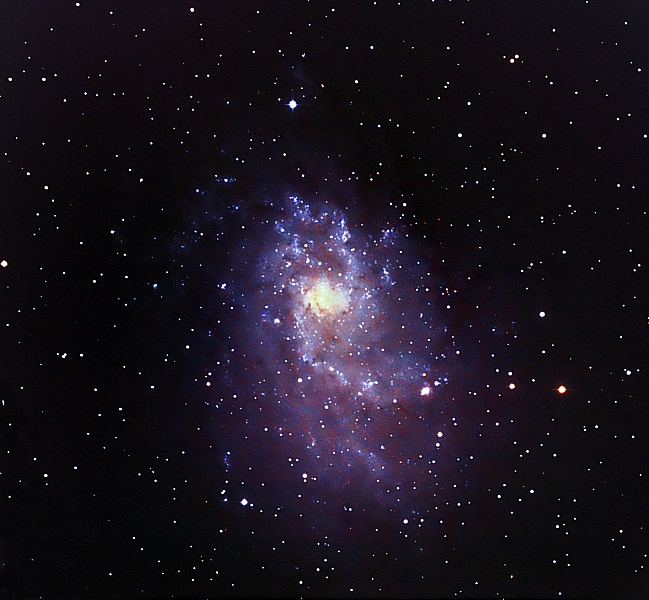 M33 (aka NGC 598), a spiral galaxy in the constellation Triangulum.
Subs: 17 light @ 200s, darks, no flats, ISO200.
D50 and MPCC on the C8N, guided with PHD.
After that I did quite fancy a good look at the Moon but I was too knackered to carry on and it was beginning to get light so I ended the session and closed the roof. Packing away was a nightmare as everything was covered with condensation - not good when there's so much electrical stuff in use!