A couple of weeks ago Adam at Fitness Footwear Ltd. was kind enough to supply me with a pair of Salomon Exit Aeros for review.
I'd opted for the Swamp, Dark Grey and Moss version, on the basis that after a good walk they'd probably end up with that colour-scheme anyway. They don't look too bad: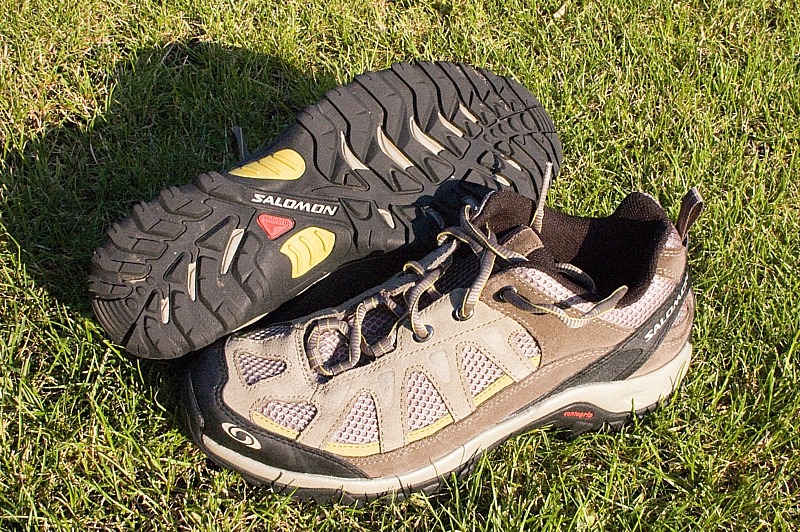 After the sizing confusion with the Merrell Chameleon Wrap Slams I was expecting similar issues with these Salomons, but these were fine - definitely size 8s and they fitted reasonably well - there was much more room in them, enough to allow a decent pair of socks without feeling too snug. The arch-support is a little less that I'd usually choose, but it's acceptable in such bendy footwear. They do move around on my feet quite a bit though, so the feeling of security is less. The soles flex and twist a bit too much for my liking, but bear in mind that I'm used to stiffer footwear. Grip-wise, they're rather odd - in the dry they grip well, and they squeak like crazy on polished floors, but on wet ground they've been rubbish - I've already slipped over on the damp yard while wearing them, and they've been no good on damp grass or up ladders either. They do dry quickly, however, and the meshy uppers allow remarkably good airflow to the point where I get noticeably colder toes whenever I wear them in a breeze.
Like the Wrap Slams, they're still waiting for a decent test off-piste, but I know now that these aren't going to be the footwear of choice for my next outing to the Lakeland Fells - the risk of slippage is just too great. Maybe I'll wear them for the walk down to the Fish Hotel and back again, that way I can blame any slippage on the beer-intake!
In short, I don't like them for any of my usual outdoor activities, but that doesn't mean that I won't wear them - to dismiss them so soon would be unfair. I'll try to give them a fair work-out over the coming months and then report back in due course.
If you're interested in laying your hands on some Salomons, have a look at the items here.