Another excellent meet. A curious blend of good company, mixed weather and excessive alcohol consumption, with some walking thrown in just for good measure.
The drive-up on Friday with Sam was punctuated with several stops, first for a piccy session just after leaving the M6, second came a mini shopping-session at Ambleside (where we met Kate) and finally we had a mini-break at Hard Knott, where Kate told us how to cheat death if lazing about in a laconicum.
Sam and Kate at Hardknott Fort
After we finished pitching the tents, Kate looked up to the local peak and announced that it looked like there was a nipple at the top. According to Wainwright and the O.S., said height is named Great Barrow, but henceforth it will be referred to as Kate's Nipple, in honour of our learned friend.
Kate's Nipple (AKA Great Barrow, Eskdale)
Friday evening was spent at the pub and later we grouped around the campfire to talk shop (and sheep).
Despite having great plans for Saturday, Messrs Guinness and Glenfiddich conspired to afflict my morning, so I had an excellent chill-out half-day on-site with Ian and A instead.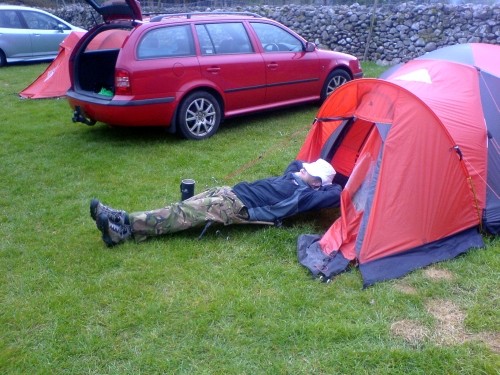 Too much alcohol! (thanks to Jamie Bassnett for the piccy)
Unusual cloud formations over an unseen Scafell Massif
Mike tempted us up to a windswept and desolate Devoke Water for an afternoon stroll, which was enough to purge the alcohol from my system.
Ian and A take a break at Washfold Point
After another short pub session we got back to the campfire to exchange tales of the day's exploits, then retired as the rain started.
All plans for Sunday were washed away by the rain. It was tempting to walk through the gloom but we didn't fancy walking miles to get to a cairn on a hill without a view, so we went back to the gear-shops of Ambleside and then headed home.
Ironically, the weather was glorious at my place, so I managed to dry the tent etc. before taking Sam to the station for the final leg of his journey home.