The first prototype fuel tank is now undergoing leak-testing.
Like most DIY gadgets, it's a doddle to make if you've access to all the bits and the kit to put them together. I'll take this opportunity to thank my good friend Nick, who lets me use his business premises and kit whenever I ask, in return for beer. Cheers, Nick!
The ingredients are as follows:
1-off 185g tin of tuna flakes (this size will hold 200ml of fuel)
1-off M8 rivnut and installing-tool
1-off 11mm steel washer
1-off M8 bolt (this prototype uses a steel bolt, I'm trying to scrounge a suitable plastic one)
Some solvent-resistant plastic film to make 2-off 11mm and 1-off 8mm sealing-rings (I used the flexible pouring-spout from a drum of thinners)
The method is as follows:
Remove the label from the tin
Use a trepanning drill-bit to make an 11mm diameter hole in the side of the tin. Standard-tipped HSS drill-bits mangle the tin
Remove the tuna, a straw's good for this. This is the most time-consuming part of the job.
If you don't mind the taste of swarf, eat the tuna
Wash out the tin
Put an 11mm sealing-ring, then the washer, then another 11mm sealing-ring onto the shank of the rivnut
Push this lot into the hole then use the installing-tool to fix the rivnut and bits into the hole
Fit the 8mm sealing-ring to the bolt to make a plug
Fill, seal and test
The good news is that you can't just pour out the contents - you have to gently squeeze together the top and bottom of the tin to pump out the fluid. Short controlled bursts, as the saying goes.
The bad news is that you can't get the last few dregs (approx 10ml) out of the tin, due to the depth to which the rivnut is inserted.
Right, now you've stopped laughing, here's what it looks like: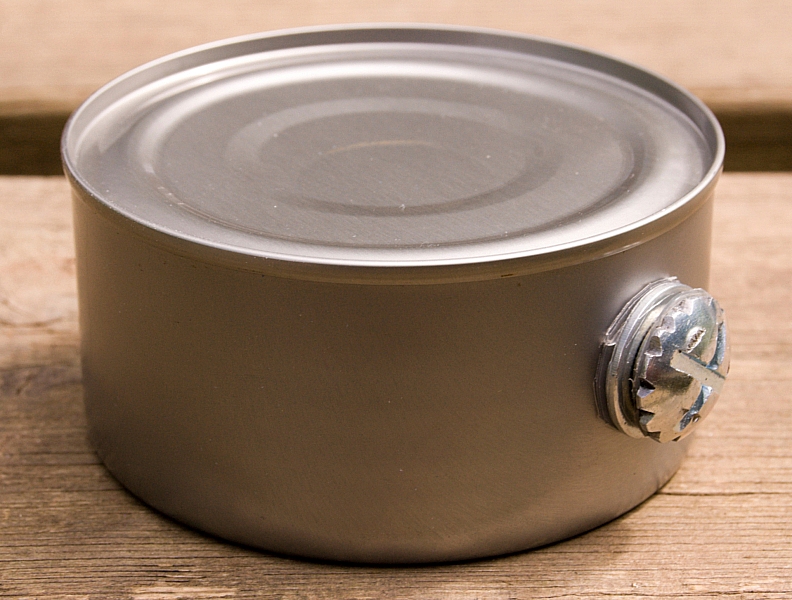 I'll let you know the test-results as and when. So far, it's looking OK.