After what seems to be weeks of cloudy sky, last night started reasonably clear, so I nabbed the chance to see what can be done with a webcam attached to the scope.
The webcam of choice is the Philips SPC900NC, which is recommended by every man and his dog because the sensor is a CCD instead of a CMOS, and because it's fairly easy to modify for raw image and/or long-exposure capture (I might get around to modding mine sometime, but for now I'll keep it as is until I get the hang of this imaging malarkey). It's also recommended because it's cheap (currently <£30 from Amazon, even cheaper if you shop around).
It's been removed from the original housing and temporarily rehoused in a cheap plastic box, primarily to allow a T-thread adapter to be fitted in place of the supplied lens. Removing the lens means that the IR-cut capability is removed as well, which has a detrimental effect on image quality, so I'll be sourcing a suitable filter soon. For now, though, it's a case of going with what's available.
The webcam was attached to the Baader Hyperion Zoom eyepiece using a 50mm extension tube to give the required image size on the chip. Setting the BHZ to 12mm gave the best image, but the seeing was absolutely rubbish, nothing was staying in focus and the image was boiling and hopping about all over the field of view.
Still, anything's better than nothing, I needed some practice and some material to work with, so I rattled off a few .avi captures until I'd amassed just over 9,000 frames, then took some dark-frame captures to aid in the stacking process. Shortly afterwards, I had to stop as the skies clouded over again, so I didn't get to look at anything else interesting.
After packing up, I plugged the dark-frame and the best 5% of the .avis into the K3CCDTools stacker and a while later, after much mucking about with settings, parameters, buttons, knobs, dials, gauges and other such software options, it spat out an image not unlike this: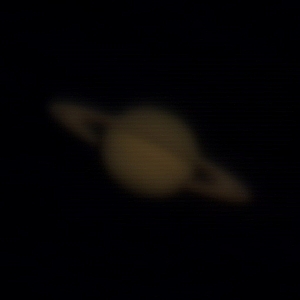 which was crudely Photoshopped (over-exposed, too much gain, many other faults too) to give this: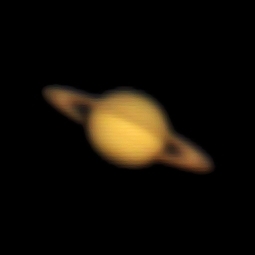 I'll play about with the acquired .avis later to see if I can drag a better image out of the data.