After spending a good four hours refining the drift-alignment of my pier-mounted scope and then grabbing a load of PEC data using PERecorder, I had a few minutes left to grab some frames of Jupiter before it went out of my field of view.
The purpose of this was to see how the mount was behaving, rather than to do a serious imaging session, but I thought I'd post the results here anyway. Due to the average seeing and the Moon being up it's not my best image of Jupiter, but at least I no longer have to keep faffing with the RumblePad to keep the target centred on the webcam chip.
The two versions of the same pic differ only by the amount of sharpening. I might run them through Noel's Actions later to see if it makes any difference.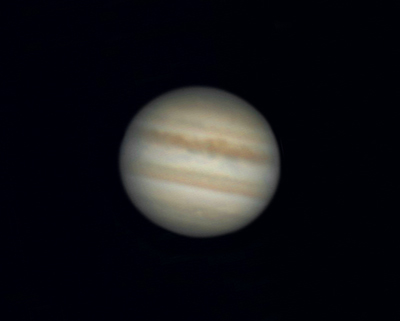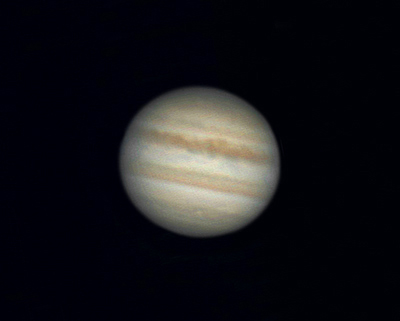 8" Newt, SPC900NC webcam (unmodified), 8mm EP projection with 50mm extension, captured and stacked in K3CCDTools3 then processed in Registax and PSCS3.