Construction of the observatory continues apace, mainly due to a complete disregard for the useless instructions included with the parts. Phase 5 is now complete:

The sides were double-proofed inside and out before assembly, and the few gaps have been filled with mastic. The walls are now up, square and level, cross-braced where required and fixed with many more than the recommended number of screws. The instructions said to put the walls onto the floor panels, but that's just mad - if ever the flooring had to come up, the walls would have to be taken down first, which would mean taking the roof off (if fitted). Commonsense said to put the walls directly onto the floor-frame (see previous post) and then fit the floor inside.

The supplied 9mm OSB floor-sections were dismantled and their boards, along with the 9mm OSB roof-boards, were used to line the inside of the walls.

A proper 18mm "waterproof" T&G chipboard panel floor was fitted, complete with a lift-out section surrounding the pier to allow easy access to the fixing malarkey and the concrete foundation beneath it.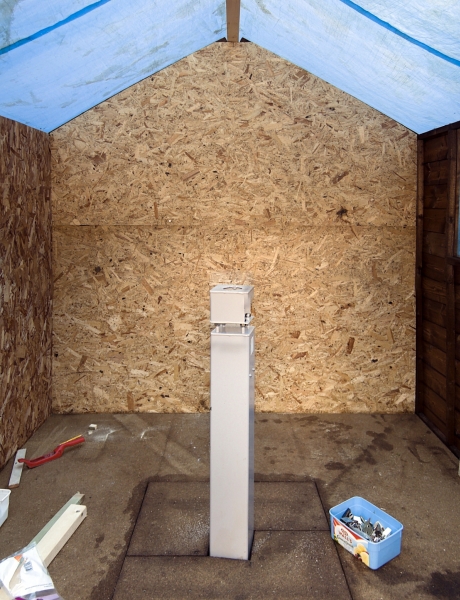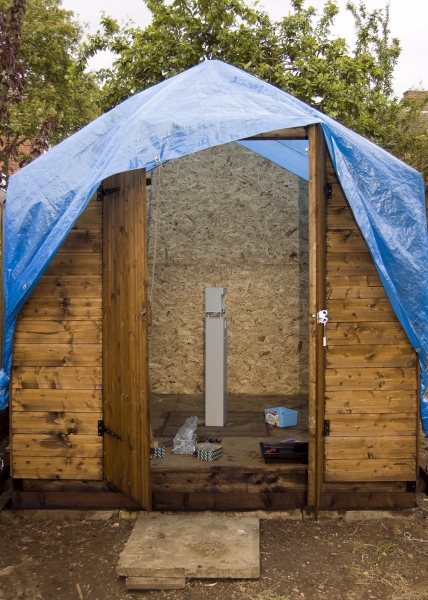 The coming week should see the completion of Phase 6 - the fitting of the roof, which should be a masterpiece of timber over-engineering.
Time will tell.