Observing reports have been neglected a bit for a while now while I've being commissioning the observatory. This process has included:
Getting the mount drift-aligned so that its axis of rotation is aligned as closely as possible with that of the Earth;
Setting up the Shoestring EQDIR to control the mount via planetarium software on the laptop;
Setting up the Logitech Cordless RumblePad 2 as a wireless hand-controller;
PEC training - measuring the inherent periodic error of the mount gearing to allow the software to compensate for it.
Anyway, Monday night was the first time I'd used the place in anger, so to speak. There had been rain (see here) and there was still a fair bit of patchy low cloud around, but the seeing was reasonably good. I decided to have a peek at Jupiter. It's quite low in the southern sky just after midnight, so there was always going to be a fair bit of atmospheric dispersion to mess up any imaging, and some hazy high cloud didn't help either, but I needed to give it a go to "prove out" the mount alignment and stability.
I shot just the one .avi file with the webcam on a general setting, needing the image shape and drift rather than any great detail. Happy that the mount setup was satisfactory, I decided to process the .avi as a check of the webcam's performance. The resulting image is  below: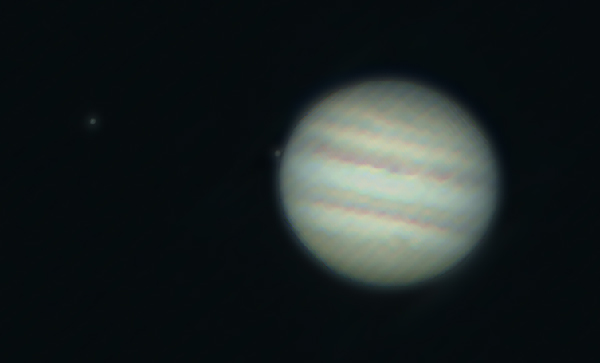 Io emerging from behind Jupiter, with Europa a bit further out
I was pleased to have captured Io right on the limb of Jupiter, but I've made a right botch of the planetary processing, which isn't surprising bearing in mind the settings used for capture. Even so, it proved that the webcam is still up to scratch.
Given the choice of reprocessing or shooting more video, I went for the latter. The next night I was set up in good time, ready and waiting to take advantage of any gaps in the clouds. There was a particularly clear half-hour during which I managed to shoot eight good two-minute .avis with more specific settings. After the usual software jiggery-pokery, I've managed to get the images from the best .avi stacked and processed reasonably well, certainly better than any that I've done before. Here are two versions of the best stack, the only difference is in the amount of sharpening. Feel free to let me know which one you prefer: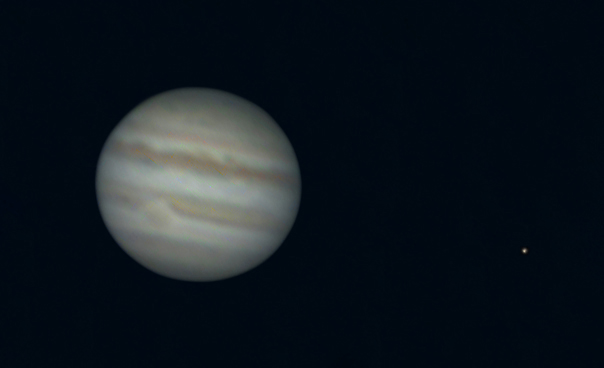 Jupiter and Io version 1 - average sharpening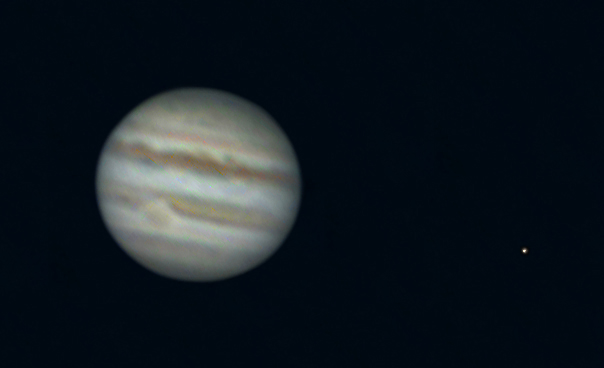 Jupiter and Io version 2 - more sharpening

Next I've got a different challenge - getting the DSLRs set up on the mount for some widefield shots of the Perseid meteors, which are on show from July 17th to August 24th, with the peak on August 12th. The possibility of getting decent pics all depends on the weather, of course.